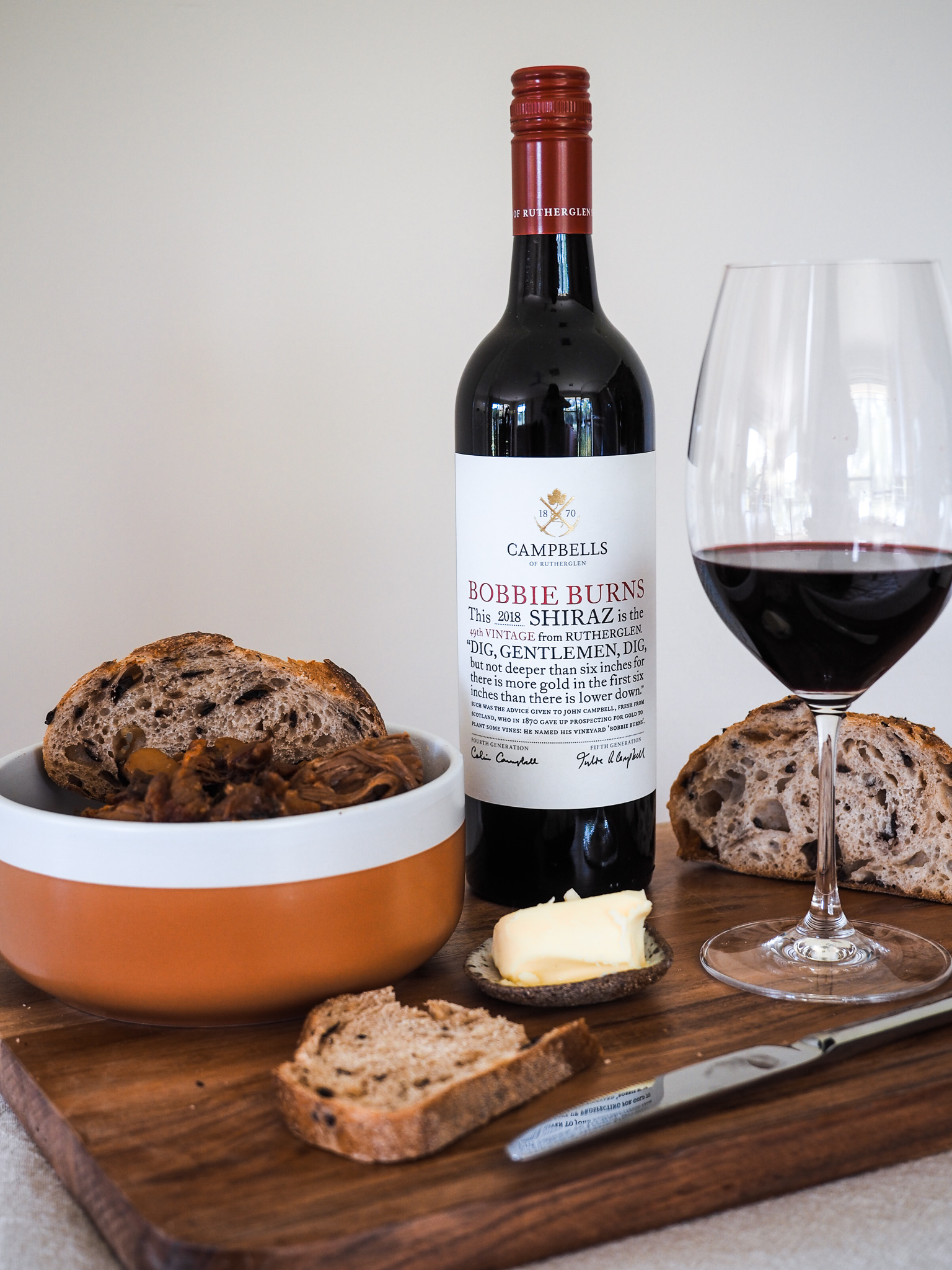 Best paired with our Bobbie Burns Shiraz
The favourable 2017 growing season has produced a Bobbie Burns Shiraz with incredible depth & concentration of fruit flavours. Our long history with this wine suggests it will continue to develop in the bottle for a further 10-12 years. Enjoy with our Beef Bourguignon.
INGREDIENTS:
1 tablespoons extra-virgin olive oil
170g bacon, chopped
1 1/2 kg beef brisket, cut into chunks
1 large carrot, sliced
1 large white onion, diced
6 cloves garlic, minced
1 pinch coarse salt and freshly ground pepper
2 tablespoons flour
2 cups red wine
2-3 cups beef stock
2 tablespoons tomato paste
1 teaspoon fresh thyme, finely chopped
2 tablespoons fresh parsley, finely chopped (divided)
2 bay leaves

200g fresh button mushrooms, quartered

2 tablespoons butter
METHOD:
Step 1) In a large pan, sauté the bacon over medium heat in 1 tablespoon of oil, until crisp and browned. Transfer to a slow cooker bowl.
Step 2) Pat dry beef with paper towel; sear in batches until browned on all sides in the oil/bacon fat. Transfer to slow cooker bowl with the bacon, and add in the onions and carrots. Season with 1/2 teaspoon coarse salt and 1/4 teaspoon ground pepper, tossing well to combine.
Step 3) Pour the red wine into the pan and allow to simmer for 4-5 minutes, then whisk in the flour until free from lumps. Allow to reduce and thicken slightly, then pour it into the slow cooker along with 2 cups of stock, tomato paste, garlic and herbs.
Step 4) Mix well to combine all of the ingredients. Cook on high heat setting for 6 hours, or until beef is falling apart and tender.
Step 5) Heat the butter in a pan over medium heat. Add the remaining 2 cloves garlic and cook until fragrant, then add in the mushrooms. Season with salt and pepper, if desired. Add to the Beef Bourguignon, mixing them through the sauce before serving.
Garnish with fresh parley and serve with mashed potatoes.