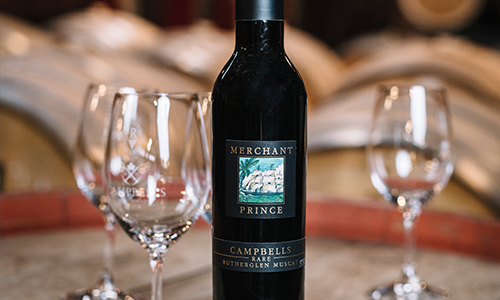 We are thrilled to share some extremely exciting news with you all; our Rare Merchant Prince Rutherglen Muscat has been awarded a Best In Show by country award at the Decanter World Wine Awards!
Of the more than 16,500 wines tasted, only 50 wines received the esteemed Best in Show medal. The Rare Merchant Prince Rutherglen Muscat was first awarded a GOLD and 'Best in Show' award in the Decanter Asia Wine Awards 2018. The wine was then re-tasted to be considered for the prestigious 'Best in Show by Country' category for the international Decanter awards. Here's what the judges had to say about the wine;
"This Rutherglen Muscat has age written all over it — and most notably in its hue, which is ebony in the glass with a walnut-coloured meniscus. It takes a long time) for a wine to attain a colour like this, and the wine's 400 g of residual sugar tells us that it would fall either into the 'Grand' or the 'Rare' categories of Rutherglen Muscat. It can only be swirled in the glass with difficulty — and then leaves the glass sides coated. The aromas are an assault course of warmth, fruit and time itself, layered out with extravagant aromatic sweetness and a kind of insinuating richness you'll find nowhere else; the flavours are heavy, dense, rich and reverberative, freighting down the tongue with treacle, citrus, spice, caramel and tar. DRINK 2018-2030"
This is an extremely prestigious honour for us, especially considering how closely this wine is linked to Fourth Generation Winemaker, Colin Campbell – such a spectacular testament to his legacy.