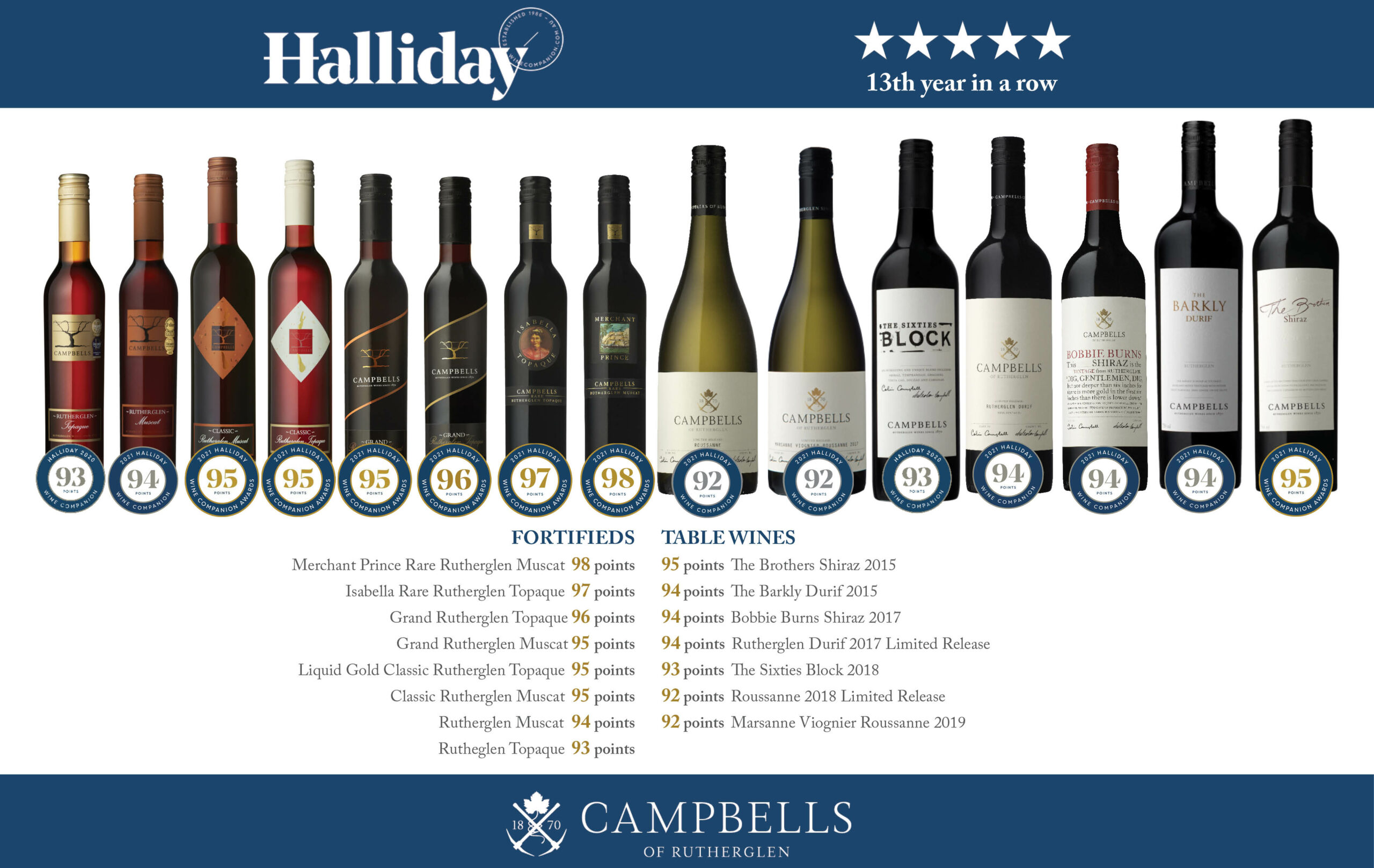 The much anticipated Halliday Wine Companion results are in…
We're delighted to share the fabulous news that Campbells has retained our Red Five Star winery rating for the 13th year in a row! In addition, all of the wines we submitted gained over 90 points, with many of our table wines receiving brilliant accolades.
Jeni Port said about our Bobbie Burns Shiraz 2017 (94 points (SILVER)) "Always good value, Bobbie Burns has legions of fans. Vintage '17, a top year in Rutherglen, won't disappoint with a generous, expressive wine with a solid, quality fruit base. It offers some arresting spice, dark chocolate and dense black fruit aromas. Packs a lot of character on the palate, the oak (sweet, vanilla) and supple tannins and a touch of Aussie bush and mint, enough to make an ex-pat jump on the next plane. A load of class."
Once again, our Muscats and Topaques wowed the judges, scoring results in the high 90's. The crowning jewels this year were our Isabella Rare Rutherglen Topaque & Merchant Prince Rare Rutherglen Muscat, which received 97 and 98 points respectively. A big thank you to our amazing vineyard and wine making teams for crafting these magic wines, bring on 2022!
Listed below are the highlights:
The fortifieds excelled this year as always:
98 points (GOLD) – Merchant Prince Rare Rutherglen Muscat
97 points (GOLD) – Isabella Rare Rutherglen Topaque
96 points (GOLD) – Grand Rutherglen Topaque
95 points (GOLD) – Grand Rutherglen Muscat
95 points (GOLD) – Liquid Gold Classic Rutherglen Topaque
95 points (GOLD) – Classic Rutherglen Muscat
94 points (SILVER) – Rutherglen Muscat
93 points (GOLD) – Rutheglen Topaque
The table wines did particularly well again this year too …
95 points (GOLD) – The Brothers Shiraz 2015
94 points (SILVER) – The Barkly Durif 2015
94 points (SILVER) – Bobbie Burns Shiraz 2017
94 points (SILVER) – Rutherglen Durif 2017 Limited Release
93 points (SILVER) – The Sixties Block 2018
92 points (SILVER) – Roussanne 2018 Limited Release
92 points (SILVER) – Marsanne Viognier Roussanne 2019