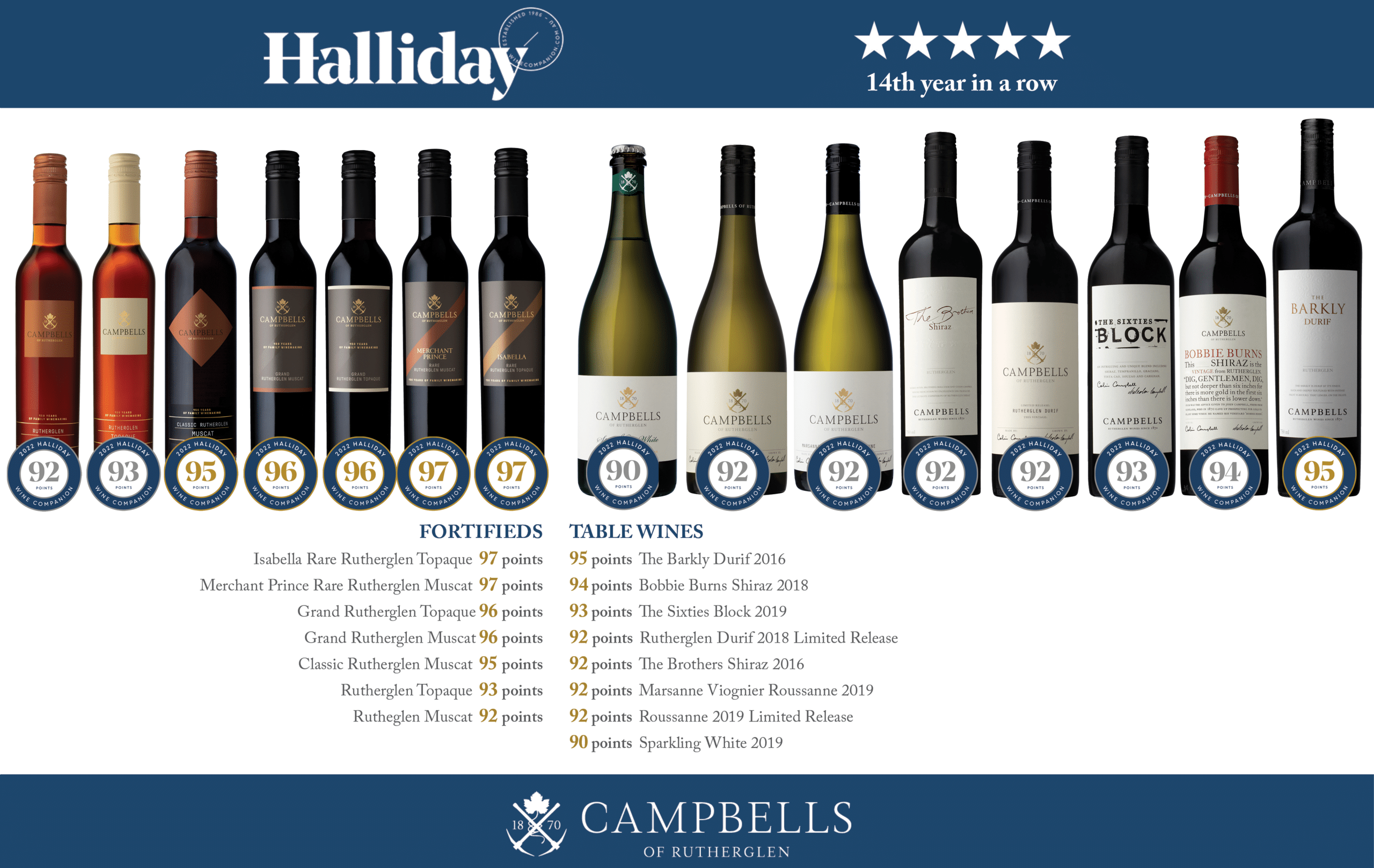 The much anticipated Halliday Wine Companion results are in…
We're delighted to share the fabulous news that Campbells has retained our Red Five Star winery rating for the 14th year in a row! In addition, all of the wines we submitted gained over 90 points, with many of our table wines receiving brilliant accolades.
"This release marks the 49th vintage for Bobbie Burns. The secret to its longevity is its honesty, which is nicely expressed here. It is right in the medium-weighted, down-to-earth, totally accessible, classic Aussie shiraz style. Solid in dark fruits, discreet in oak, awash in tingling, woodsy spice and melded together by fine tannins. Length is assured, the pleasure factor high."
Jeni Port, Published 12 April 2021
Once again, our Muscats and Topaques scored in the high 90's. Our Isabella Rare Rutherglen Topaque & Merchant Prince Rare Rutherglen Muscat both received 97 points each.
None of this could happen without our wonderful team here at Campbells Wines – particularly our vineyard, winemaking and production teams for all their hard work. We would also like to thank you, our wonderful customer base, for your continued support.
Listed below are the highlights:
Fortifieds:
97 points (GOLD) – Isabella Rare Rutherglen Topaque
97 points (GOLD) – Merchant Prince Rare Rutherglen Muscat
96 points (GOLD) – Grand Rutherglen Topaque
96 points (GOLD) – Grand Rutherglen Muscat
95 points (GOLD) – Classic Rutherglen Muscat
93 points (SILVER) – Rutherglen Topaque
92 points (SILVER) – Rutherglen Muscat
Our table wines:
95 points (GOLD) – The Barkly Durif 2016
94 points (SILVER) – Bobbie Burns Shiraz 2018
93 points (SILVER) – The Sixties Block 2019
92 points (SILVER) – Rutherglen Durif 2018 Limited Release
92 points (SILVER) – The Brothers Shiraz 2016
92 points (SILVER) – Marsanne Viognier Roussanne 2019
92 points (SILVER) – Roussanne 2019 Limited Release
90 points (SILVER) – Sparkling White 2019