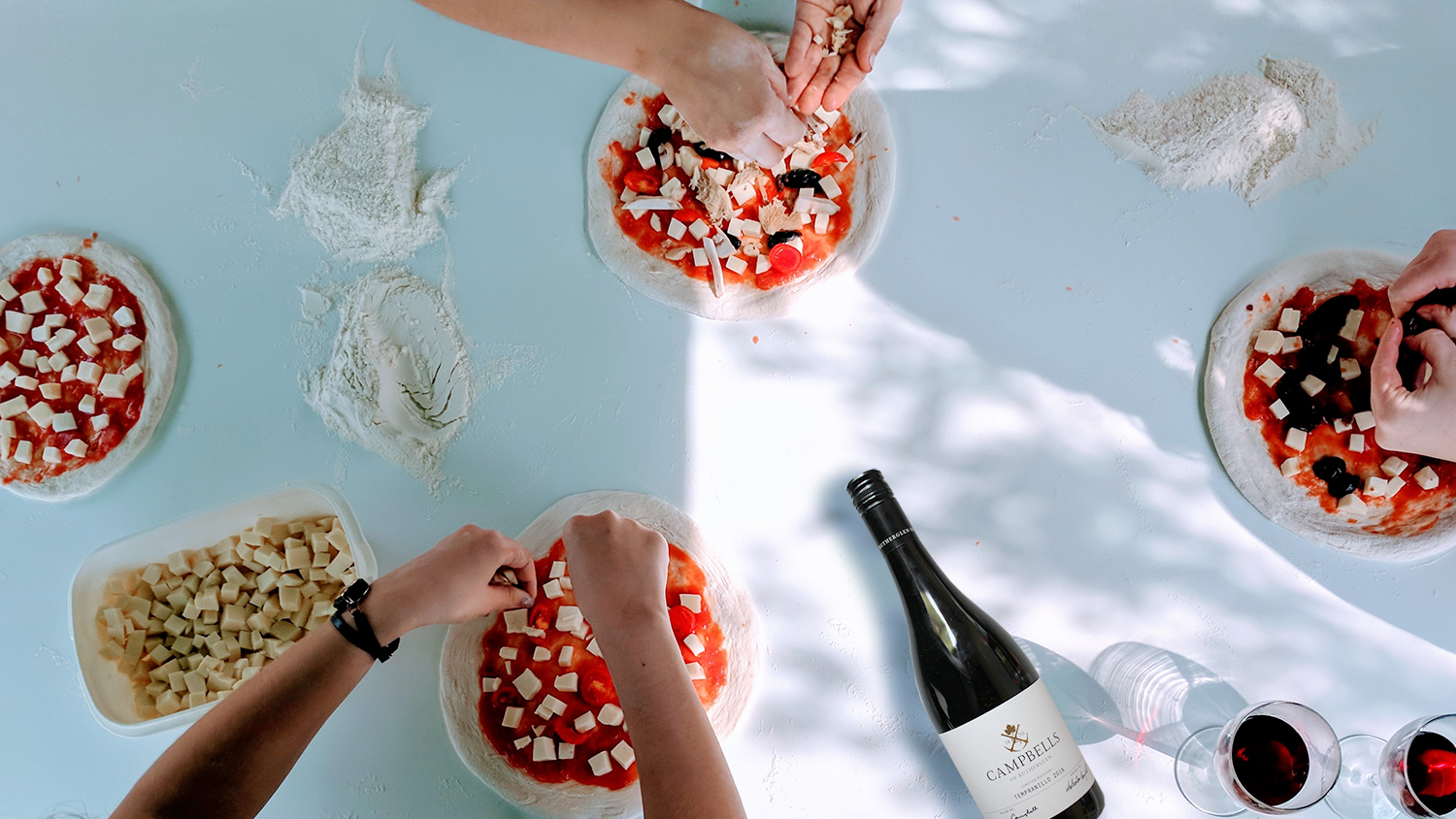 Best paired with our Tempranillo 2017 Limited Release
Aromatic, medium bodied, and brimming with fresh plumy fruits, our Tempranillo 2017 Limited Release has plenty of drink now appeal however it also rewards cellaring for up to 5 years. A versatile food wine, perfectly paired with this Pizza Caprese recipe.
INGREDIENTS:
DOUGH
• 1 1/2 cups (355 ml) warm water
• 1 package (2 1/4 teaspoons) of active dry yeast
• 3 3/4 cups (490 g) bread flour
• 2 teaspoons salt
• 1 teaspoon sugar
• 1/4 cup olive oil, plus extra for brushing
TOPPINGS
• 400 gm canned diced tomato, drained (juice discarded)
• 375 gm buffalo mozzarella (about 3 small), thinly sliced
• 100 gm cacciatore salami, thinly sliced
• 250 gm cherry tomatoes, halved
• 1 cup basil (loosely packed)
• To serve: extra-virgin olive oil
METHOD:
Step 1) Preheat oven to 220°C
Step 2) For dough, combine the water, yeast and sugar in a small bowl. Set aside for 5 minutes or until foamy. Combine the flour and salt in a large bowl and make a well in the centre. Add the yeast mixture and oil. Use a round-bladed knife in a cutting motion to mix until the mixture is combined. Use your hands to bring the dough together in the bowl.
Step 3) Brush a bowl lightly with oil. Turn the dough onto a lightly floured surface and knead for 10 minutes or until smooth and elastic. Place in the prepared bowl and turn to coat in oil. Cover with plastic wrap and set aside in a warm, draught-free place to rise for 30 minutes or until dough doubles in size.
Step 4) Dust work surface with flour. Knead dough and form into a long cylinder. Divide into thirds. Use a rolling pin to roll each third into a 20cm disc.
Step 5) Spread canned tomato over bases, top with mozzarella and salami, then bake on heated trays, using baking paper for support, until golden and cooked through. Scatter pizza with cherry tomatoes and basil, drizzle with oil, season to taste and serve hot.