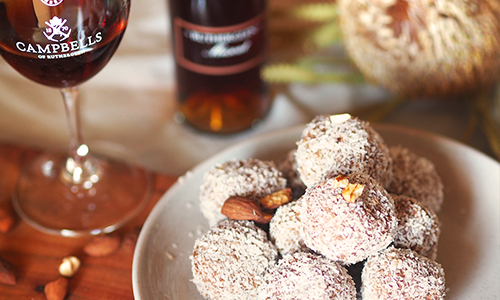 Long standing team member, Carmel Miller, is renowned around the winery for having the best 'Muscat Ball' recipe around. In fact, these little treats are always the first to go at any staff occasion! Today, Carmel takes you through her recipe.
INGREDIENTS:
500g Plain sweet biscuits (a half large mixing bowl)(crushed)
500g Shredded Coconut
100g Campbells Rutherglen Muscat
1 tin of Condensed milk
1 teaspoon of vanilla essence
100g of butter
Extra coconut for rolling (toasted in oven for a few minutes for rolling)
METHOD:

STEP 1: Place crushed biscuits in large bowl.
STEP 2: Add 400g coconut and mix through, leave remaining coconut for later.
STEP 3: Add 1 teaspoon of vanilla essence.
STEP 4: Add 100g of Campbells Classic Muscat to dry mixture and mix well.
STEP 5: Melt butter in microwave, then into this add condensed milk & microwave again for 1 minute. Add to dry ingredients and mix well. Mixture should moist but firm.
STEP 6: Roll spoonfuls of mixture into balls and roll into the remaining coconut.
STEP 7: Set in fridge night before using or freeze in container for later use.