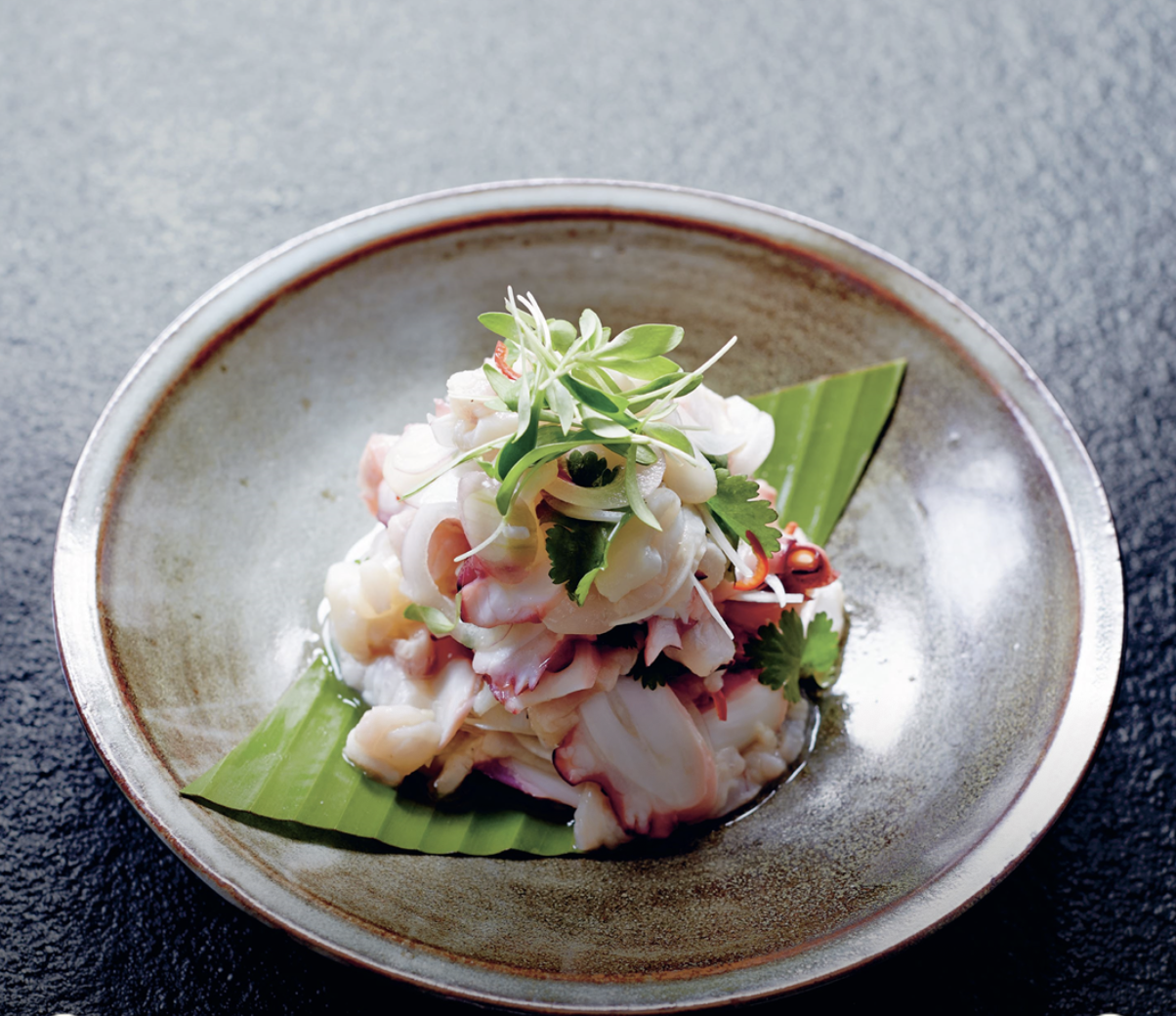 Looking for that perfect accompaniment for your Riesling? We've found an incredible recipe for a seafood dish that'll really impress at your next dinner party! Ceviche of Octopus, Scallops & Snapper is a simple, light and refreshing dish that lovers of seafood will enjoy. 
Ingredients:
2 x 200g octopus tentacles
6 scallops
1 x 200g skinless snapper fillet, pin boned
1 red asian shallot, finely sliced
1 large handful roughly chopped coriander
1 long red chilli, halved, seeded and sliced into half-rounds
1 lime, juiced
1 lemon, juiced
1/2 orange, juiced
1 banana leaf square, wiped with a damp cloth, for serving
snipped coriander cress, to garnish
Method:
Step 1: Wash the octopus tentacles well under running water. Using a sharp knife, score the skin near the tentacles in a diamond pattern, then pull the skin off using your fingers, starting from the thickest part.
Step 2: Place the tentacles in a large wide saucepan with 100 ml water and a large pinch of sea salt. Cover and cook over low heat for 45 minutes, or until the tentacles are firm but tender. Drain well, then chill in the fridge. Once cold, slice the tentacles diagonally across the grain.
Step 3: Meanwhile, wash the scallops in a bowl of salted cold water to make sure there is no sand on them. Using a small sharp knife, remove the tough muscle on the side of each scallop. Slice each scallop into five thin strips along the grain of the fibres. Refrigerate.
Step 4: Slice the snapper fillet in half lengthways, then cut across the fillet into slices 3 mm thick. Place back in the fridge.
Step 5: Near serving time, place the seafood in a mixing bowl, along with the shallot, coriander and chilli. Add the citrus juices and toss together. Leave to sit for 5 minutes for the juices to start curing the seafood.
Step 6: Line a bowl or platter with the banana leaf. Pile the seafood salad on top and garnish with the coriander cress.
Serve & Enjoy!
Incredible recipe taken from www.cooked.com