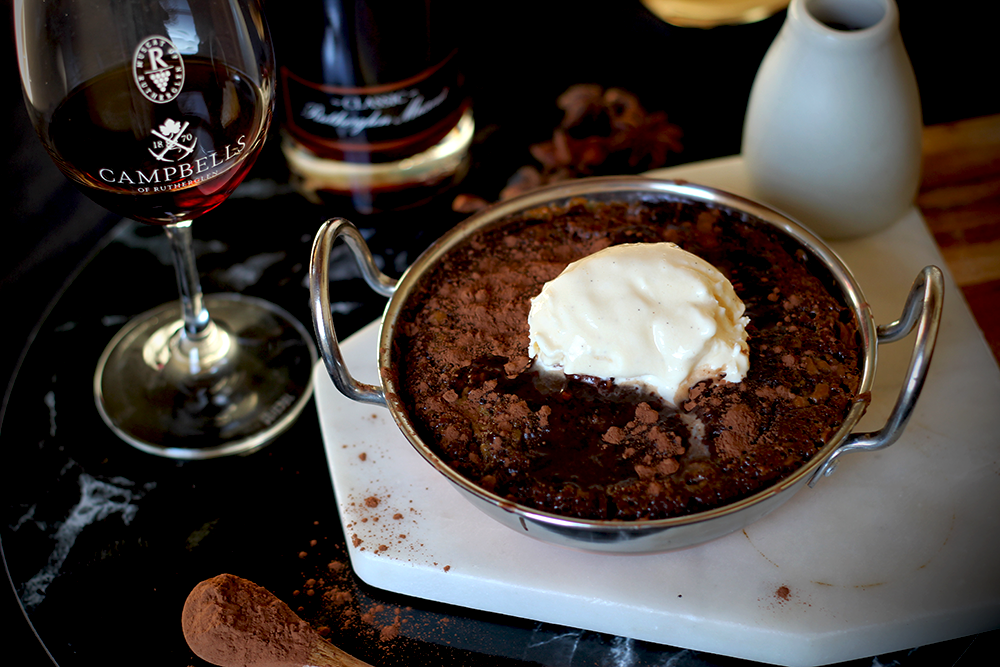 Best paired with Classic Rutherglen Muscat.
Campbells Muscats and Topaques have received international acclaim for being the 'world's richest wines', which stand alone so well, but also pair beautifully with decadent desserts. In particular, winemaker Colin Campbell loves to pair the Classic Rutherglen Muscat with the likes of a rich Chocolate Pudding with Salted Caramel Sauce. Today, he shares his favourite recipe…
INGREDIENTS:
Pudding
1 cup (250ml) milk
70g unsalted butter, melted
2 eggs
2 teaspoons vanilla extract
1 cup (150g) plain flour, sifted
3 teaspoons baking powder, sifted
⅓ cup (35g) dutch cocoa, sifted
½ cup (60g) almond meal
½ cup (90G) brown sugar
Sauce
150ml water
250g brown sugar
1 tablespoon vanilla extract
120ml heavy cream
25g unsalted butter
a pinch of sea salt
METHOD:
Step 1: First, prepare your pudding mixture. Preheat the oven to 180°C. Place the eggs, butter, milk and vanilla in a large bowl and whisk to combine. Add the flour, baking powder, cocoa, almond meal and sugar and whisk to combine. Place the mixture in a bake-proof tray, ramekin or dish and set aside.
Step 2: Now it's time to prepare your sauce. Put a medium, non-stick pan over a high heat and pour in the water. Carefully pour in the sugar and slowly bring the mixture to the boil. Cook for 3-4 minutes, or until the sugar starts to turn golden brown – be sure to keep an eye on your mixture so that it does not catch and burn on the bottom of the pan.
Step 3: Once the sugar has melted and bubbles form over the surface, take the pan away from the heat. Mix the vanilla extract into the double cream and carefully pour it into the pan. Whisk in the butter and add a good pinch of sea salt. Now you have your caramel mixture, pour it over the pudding mixture you set aside. This will create a self-saucing effect when the pudding is cooked.
Step 4: Bake for 20–25 minutes or until firm to touch. Allow to stand for 15 minutes and dust with cocoa. Serve with a spoon of ice cream. Serves 4–6.