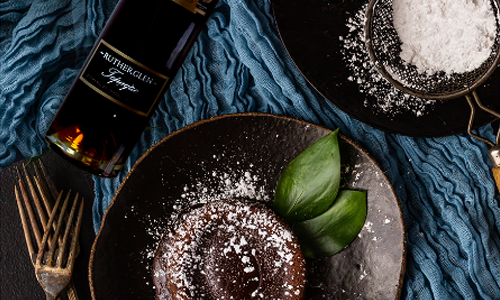 It may be winter, but we think this decadent chocolate pudding paired with our Rutherglen Topaque can be enjoyed any time of the year! Check out the full recipe below:
INGREDIENTS:
60g unsalted butter
½ cup (125ml) milk
1 tsp vanilla extract
¾ cup (165g) caster sugar
1 cup (150g) self-raising flour, sifted
2 tbs cocoa, sifted
¾ firmly packed cup (185g) brown sugar
Icing sugar to dust
METHOD:
STEP ONE: Preheat the oven to 180c. Grease a 1.5L (6-cup) capacity ovenproof baking dish. Or, if you'd prefer individual servings, place into 8 individual ramekins.
STEP TWO: Slowly melt the butter with the milk in a saucepan over a low heat. Add the vanilla, caster sugar, flour and 1 tbs of cocoa, stirring to combine. Spread mixture into your prepared baking dish or ramekins.
STEP THREE: Combine the brown sugar and remaining 1 tbs cocoa in a bowl with 2 cups (500ml) boiling water. Stir until the sugar has dissolved, then carefully pour over the pudding batter. Bake for 35-40 minutes until the top is firm.
STEP FOUR: Stand for 5 minutes to cool slightly.
STEP FIVE: Dust the warm pudding with icing sugar and serve with our Rutherglen Topauqe.