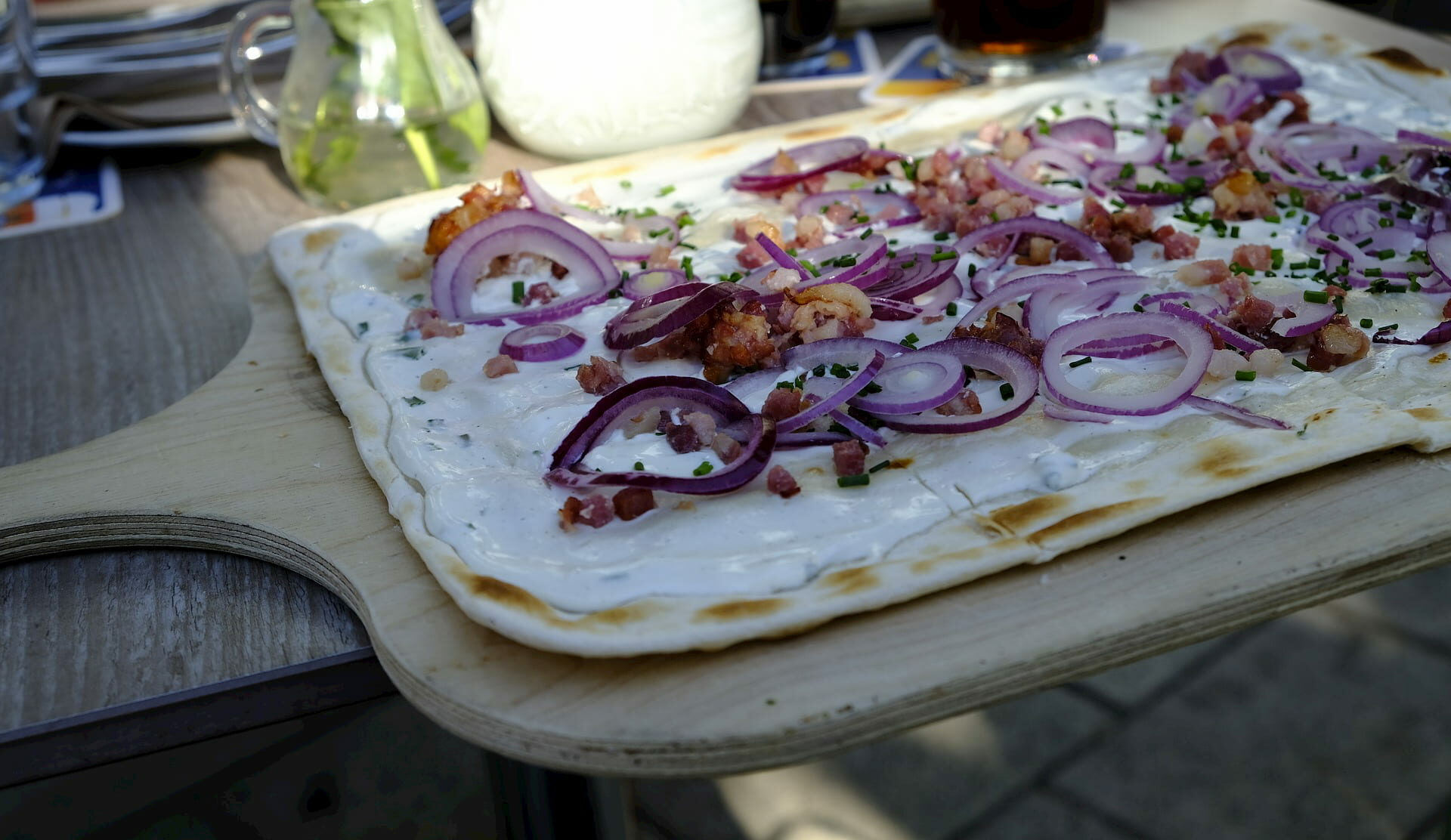 Best paired with our Gewurz 2019.
Serving two, this Tarte Flameé is guaranteed to make you salivate. This next-level flatbread recipe is a delight of a dish that will leave you feeling Michelin Star. Sit back and enjoy this with a crisp white as the supreme accompaniment. 
Ingredients
7g dried yeast (1 sachet)
200g bread flour, plus extra for dusting
50g buckwheat flour (⅓ cup)
Vegetable oil, for greasing
150g crème fraîche
½ onion, sliced as thinly as possible on a mandolin
120g bacon or speck, cubed
Finely grated nutmeg to taste
Thyme to serve
Method
Step 1: Dissolve yeast in 180ml of lukewarm water in a bowl and set aside until foamy (10-15 minutes). Add flours and ½ tsp salt, mix to form a soft dough, then knead until smooth and elastic (4-5 minutes). Transfer to a lightly oiled bowl, turn to coat, cover bowl with plastic wrap and stand until doubled in size (1-1½ hours).
Step 2: Preheat oven to 250C and heat 2 heavy baking trays in oven. Knock back dough on a lightly floured surface and halve. Roll each piece as thinly as possible to a rough 25cm x 30cm rectangle, then place on a piece of baking paper. Spread each with half the crème fraîche, scatter with onion and bacon. Sprinkle with nutmeg, season to taste, then transfer on baking paper to heated trays and bake, swapping trays halfway through cooking, until cooked through and lightly scorched on the edges (10-12 minutes). Scatter with thyme, season to taste and serve.
Tips: Slice the onion as thinly as possible, use smoky bacon and bake until edges are scorched to maximise the flavours for this dish.
Recipe Inspired by Gourmet Traveller.