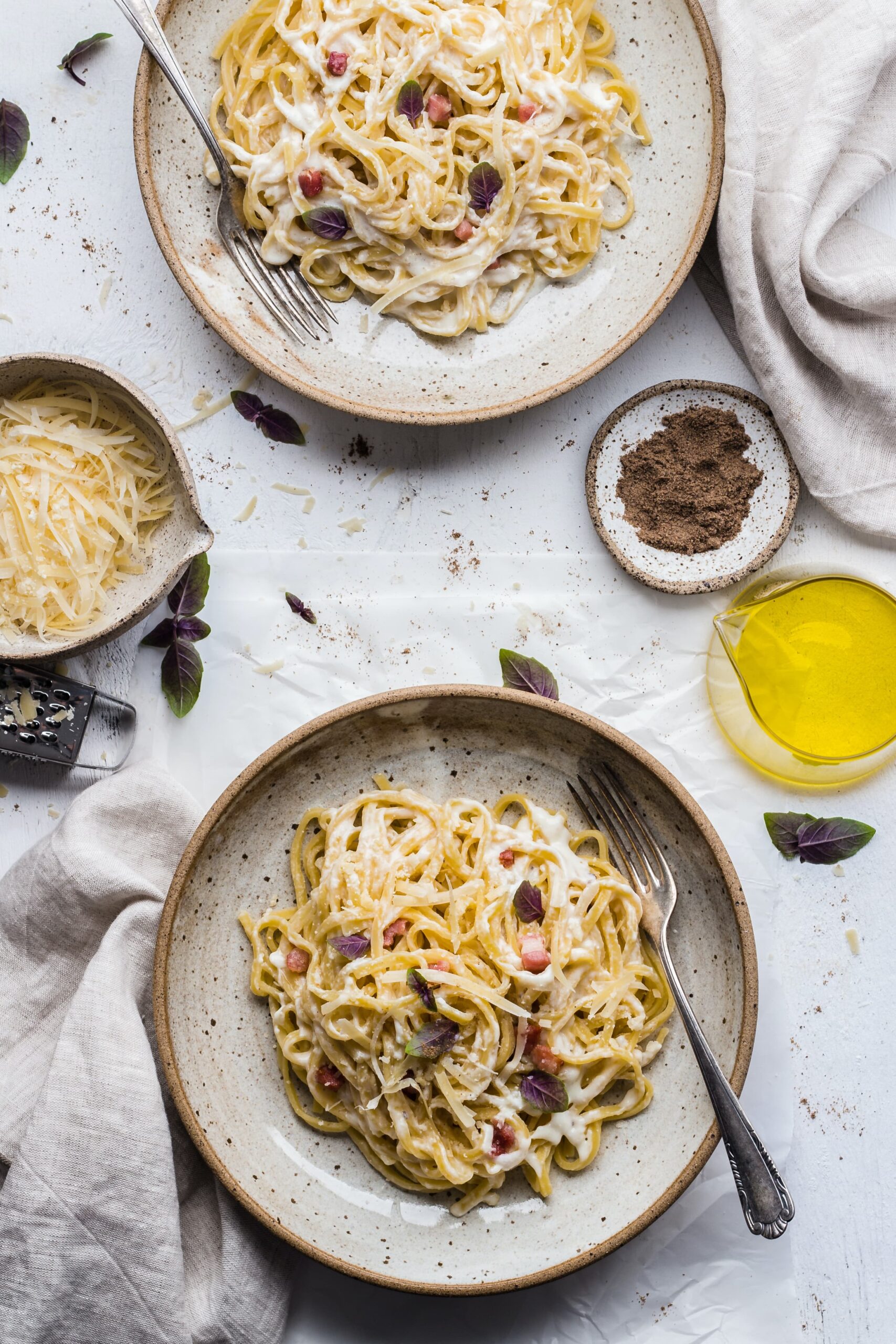 Best paired with Marsanne Viognier Roussanne.
Who doesn't love to indulge in a wonderfully creamy carbonara every now and again? This family favourite will be on the table in less than 30 minutes. Better yet, pair it with our Marsanne Viognier Roussanne 2017 Limited Release for a delight on the tastebuds.
INGREDIENTS:
375g fettuccine
2 tsp olive oil
8 short-cut bacon rashers, chopped
1 onion, finely chopped
2 garlic cloves, crushed
200g button mushrooms, thinly sliced
300ml light cooking cream
2 egg yolks
2 tbs fresh chives, finely chopped
2 tbs fresh parsley, finely chopped
1/2 cup parmesan, finely grated (plus extra to serve)
1/2 bunch fresh chives, chopped to garnish
METHOD:
Step 1: Cook pasta in a large saucepan of boiling, salted water until tender. Drain, reserving ¼ cup of the cooking water. Keep pasta warm.
Step 2: Meanwhile, heat oil in a large, deep frying pan over a medium to high heat. Add bacon. Cook, stirring occasionally, for about 5 minutes, or until crisp. Add onion, garlic and mushrooms. Cook, stirring occasionally, for about 3 minutes, or until soft. Reduce heat to medium.
Step 3: Whisk cream and yolks in a small bowl. Add to pan with warm pasta and reserved water. Stir over heat until hot. Stir in herbs and grated parmesan. Season with salt and pepper.
Step 4: Serve immediately, garnish with shaved parmesan and extra chopped chives.
Tip – For an extra smooth sauce use room temperature egg yolks.
Recipe via – New Idea Food