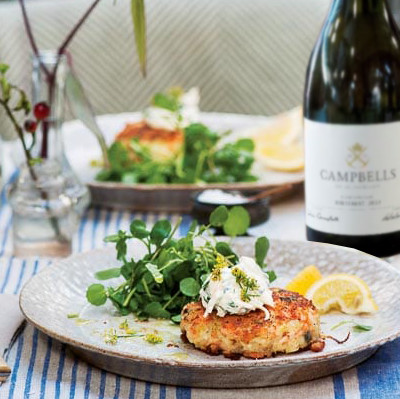 Best paired with our Chardonnay.
This super simple recipe is bound to make even the worst cooks, appear like a pro. Light on the tummy, but full of flavour, this recipe for Salmon Fish Cakes is set to impress. Pair with our Chardonnay for a delightfully light combination.
INGREDIENTS:
450g floury potatoes, cut into chunks
350g salmon (about 3 fillets)
2 tsp tomato sauce
1 tsp English mustard
zest ½ lemon, plus wedges to serve
1 heaped tbsp chopped parsley
1 heaped tbsp chopped dill
3 tbsp plain flour
1 egg, beaten
100g dried breadcrumb
4 tbsp sunflower oil
salad, to serve
METHOD:
Step 1: Heat the grill.
Step 2: Place 450g floury potatoes, cut into chunks, in a pan of water, bring to the boil, cover and cook for 12-15 mins until tender. Drain and leave to steam-dry, then mash.
Step 3: Meanwhile, season 350g salmon fillet and grill for 5-6 mins until just cooked. Cool for a few mins, then break into large flakes.
Step 4: Mix the potato, 2 tsp tomato sauce, 1 tsp English mustard, the zest of ½ lemon, 1 heaped tbsp chopped parsley, 1 heaped tbsp chopped dill and some seasoning. Lightly mix in the salmon, taking care not to break it up too much.
Step 5: Shape into 4 large fish cakes.
Step 6: Put 3 tbsp plain flour, 1 beaten egg and 100g dried breadcrumbs in 3 shallow dishes. Dip the cakes into the flour, dust off any excess, then dip in the egg, and finally coat in breadcrumbs.
Step 7: Heat 4 tbsp sunflower oil in a large pan. Fry the cakes over a medium-low heat for 3-4 mins each side until deep golden and heated through.
Step 8: Serve with salad and lemon wedges.
Tip – If you prefer mayonnaise this can be substituted for the tomato sauce.
Recipe via – BBC Good Food