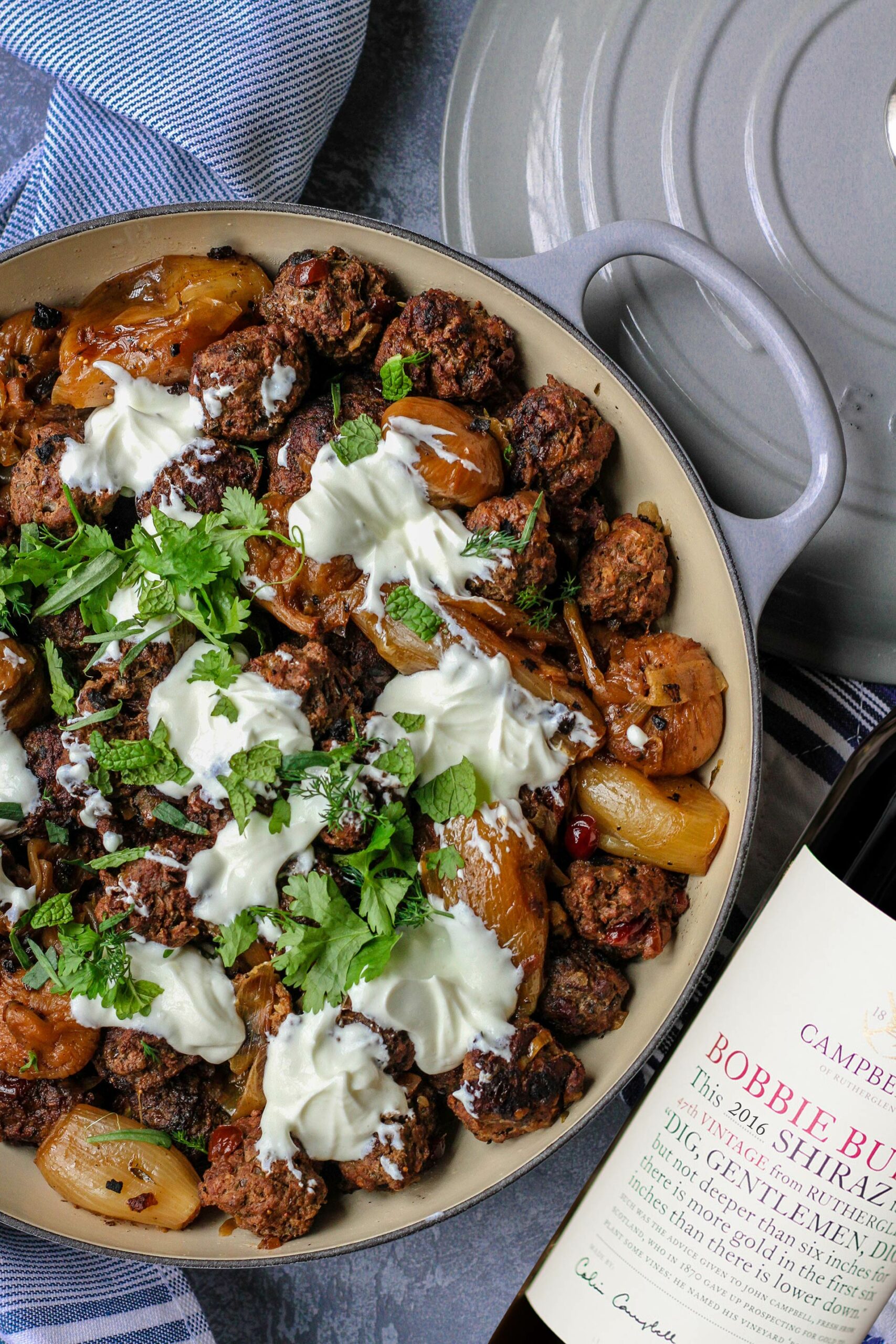 Did you know that the gorgeous flavours of middle-eastern cuisine pair beautifully with our very own Bobbie Burns Shiraz? Try this Middle Eastern Meatball recipe with a glass of our Bobbie tonight and see what we mean… You can thank us later!
INGREDIENTS:
• 500g beef mince
• 2 carrots
• coriander
• 100g pinenuts
• 2 cloves of garlic
• 100g greek yoghurt
• 150g pumpkin
• olive oil
• 2 tsp honey
• 1 egg
• 1/2 tsp salt
• 25g harissa spice mix
• 100g fine breadcrumbs
METHOD:
Step 1) Preheat the oven to 220°C/200°C fan-forced. Cut the carrot (unpeeled) into 2cm chunks, do the same to the pumpkin. Finely chop the garlic (or use a garlic press). Finely chop the coriander.
Step 2) Place the peeled & chopped pumpkin and the carrot on an oven tray. Drizzle of olive oil and a pinch of salt and pepper. Roast for 20-25 minutes, or until almost tender. Remove the tray from the oven, drizzle the pumpkin and carrot with the honey. Return to the oven and roast for a further 5 minutes, or until tender and caramelised.
Step 3) Heat a large frying pan over a medium-high heat. Add the pine nuts and toast until golden. Transfer to a plate. Return the pan to a medium-high heat with olive oil (2 tsp for 2 people / 1 tbs for 4 people) and 1/2 the garlic. Cook for 30 seconds, or until fragrant, then transfer to a medium bowl. Add the Greek yoghurt, coriander (reserve some for garnish) and a good pinch of salt and pepper to the garlic oil. Whisk to combine.
Step 4) In a bowl, combine the beef mince, fine breadcrumbs, egg, harissa spice blend, the salt and the remaining garlic. Using damp hands, take 1 heaped tbs of the beef mixture and shape into a meatball. Set aside on a plate and repeat with the remaining mixture. You should get 5-6 meatballs per person.
Step 5) Return the frying pan to medium-high heat with a drizzle of olive oil. Add the meatballs and cook for 8-10 minutes, turning regularly or until browned and cooked through.
Step 6) Plate with a garnish of Greek yoghurt & coriander. Enjoy with a glass of Bobbie Burns Shiraz.