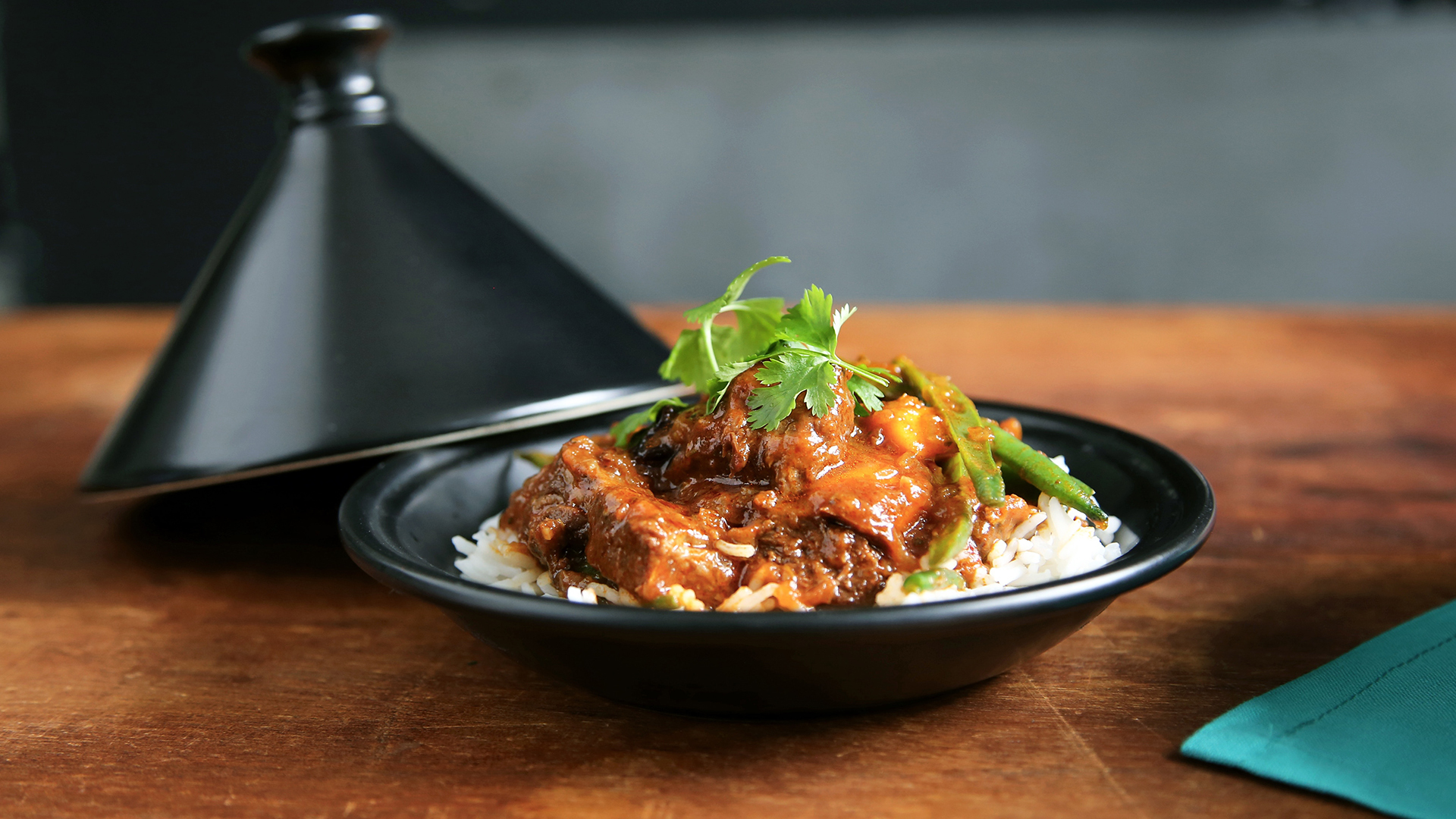 Warming winter dishes don't get much more delicious than this Moroccan Lamb Tagine. Pair it with our Sixties Block 2017.
INGREDIENTS
• 1.5kg shoulder lamb, diced
• 1 large Spanish onion, grated
• 2 garlic cloves, crushed
• 1 teaspoon salt
• 1 bunch coriander, leaves chopped
• 1 cinnamon stick
• 1 teaspoon ground cumin
• 1 teaspoon ground ginger
• 1 teaspoon paprika
• 1 teaspoon saffron threads
• 120ml (6 tablespoons) olive oil
• 1 large piece orange peel
• 800g chopped diced tomatoes
• 2 tablespoons tomato paste
• 375ml Massel beef stock
• 1 bay leaf
• 30g butter, diced
• 2 tablespoons honey
• 240g can chickpeas, drained, rinsed
• 1/2 cup green olives
• Coriander to garnish
METHOD
Step 1) Combine lamb, onion, garlic, coriander, spices, oil and 1 teaspoon salt in a bowl. Cover and refrigerate overnight.
Step 2) Preheat oven to 160°C. Heat a non-stick frying pan, add lamb in batches and fry until lightly browned all over. As meat is cooked, place in a tagine or casserole dish. Add orange peel.
Step 3) Drain tomatoes, reserving juice. Set tomatoes aside. Combine juice with tomato paste, then add to meat with stock and bay leaf. Cover and cook in oven for 1 1/2 hours. Use a slotted spoon to transfer meat to a plate. Place dish over high heat (if you are using a tagine you will need to transfer the liquid to a frying pan).
Step 4) Add diced tomatoes and butter and reduce for 2 minutes, then add honey, chick peas, olives and meat. Cook, stirring, for 1-2 minutes. Garnish with coriander.