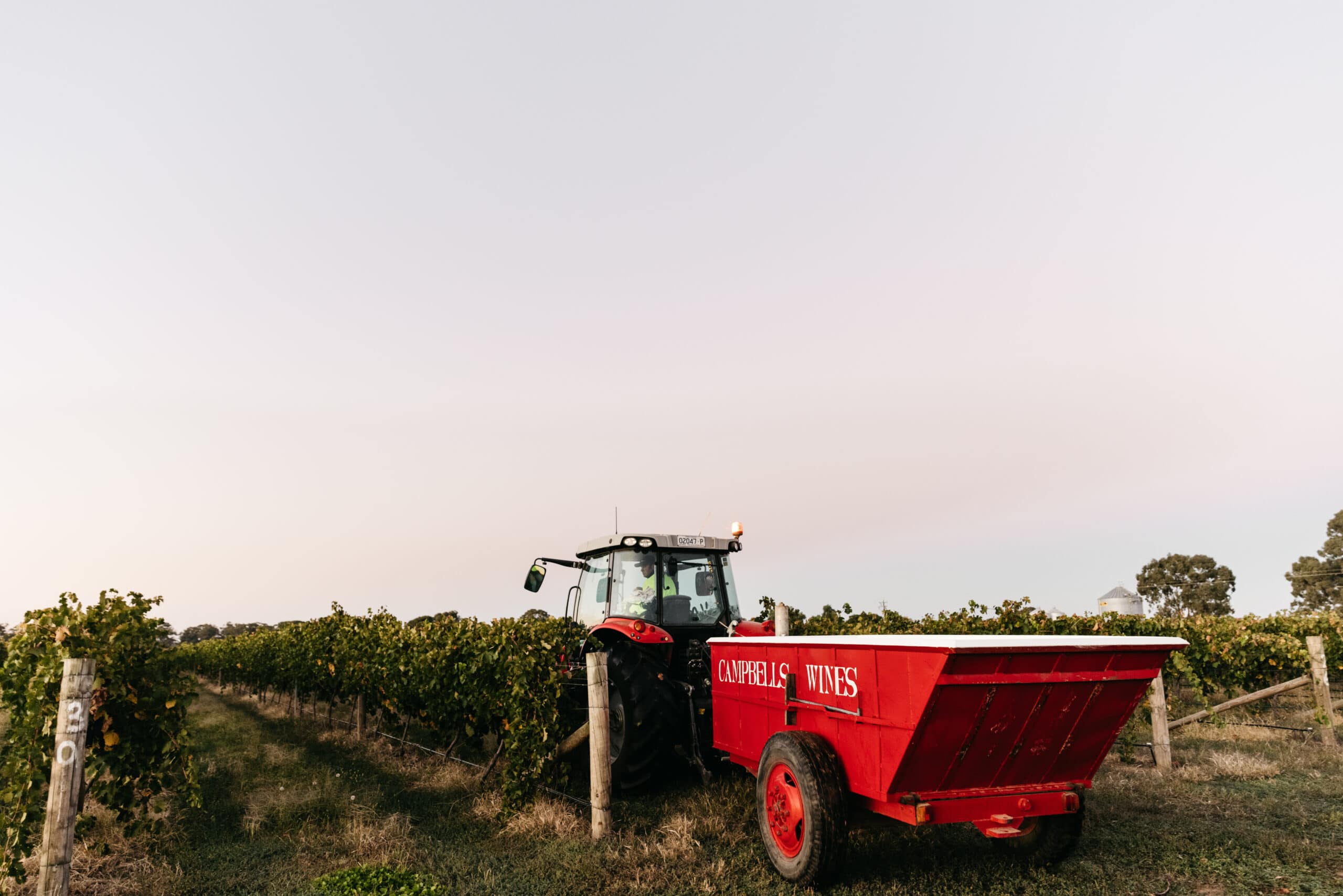 THE THREE 'M's' – the Muscat family is very dear to Campbells so what's the difference between these aromatic grapes. The answer is both simple yet complex, we have taken the guess work out and simplified the varieties and included some comparisons as well. After all, Muscat is one of the oldest and most widely planted grape families in the world, with numerous variances in wine styles, levels of sweetness, skin colourings and beyond.
RUTHERGLEN MUSCAT
Rutherglen Muscat (Brown Muscat, muscat a Petits Grains Rouge). This grape makes delicious, highly complex sweet wine by continuing to ripen into very high beaume (sugar content) giving a unique wine style that is fresh and delicate when young and intense and luscious when old. It is a regular addition to the Top 100 wines of the world and is unique to Australia and Rutherglen in particular.
MUSCAT
The two most common varieties of Muscat are Muscat Blanc and Muscat Alexandria. The former generally has white skin and produces dry and sweet wines. The Alexandria variety tends to be larger and darker, and renowned for producing concentrated sweet wines. These grapes are most commonly associated with the south of France, particularly the Rivesaltes, Beaumes-de-Venise, and Frontignac appellations. Here, Muscat grapes are often fortified with neutral distillate to create Vin Doux Naturel, the area's flavour-packed, high-ABV sweet wine. Muscat is also used in the sweet fortified wine productions of Rutherglen, as well as parts of Greece.
MOSCATEL
This is simply the name for Muscat in Spain and Portugal. It generally refers to Muscat of Alexandria. In Spain, Moscatel is usually fermented sweet and can be found in the following regions: Malaga, Alicante and Valencia. In Portugal the style broadens to craft not only sweet wines of Madeira sometimes we see it being used with Sweet Sherry production.
MOSCATO
In Italy, Moscato (Muscat Blanc / Muscat Blanc Petits Grains is the backbone of this well established sweet wine phenomena – Piedmont being the main region. Unlike fortified wines of Spain and France Moscato is fermented using a different process, which involves chilling the wine down prior to fermentation being complete and holding in stainless steel tanks. Our Moscato is made from Rutherglen Muscat (Muscat à Petit Grains Rouge), the same variety as used for the great wines of Rutherglen.
COMPARISONS
The thread that ties all of these Muscat varieties together is their profound aromatics, which are rather similar. Although detailed notes will vary from producer to producer, Muscat Blanc and Moscatel wines often show notes of orange blossom, red apple skin, and honeysuckle, while Moscato-based wines usually depict intense, floral-tinged notes of mandarin orange, pear, and rose petals, despite their light and airy palates. In short, all of these wines are produced from grapes in the Muscat family and are known for their high-toned aromatics. What sets them apart is where they're made and the styles associated with each of these places, as well and as final ABVs. Lastly, fortified French Muscat and Spanish Moscatel have a long ageing capacity, whereas Italian Moscato is meant to be consumed upon release. Please note: The French grape Muscadelle, most commonly associated with Bordeaux, has no relation to the Muscat family of grapes.
However we do use this variety for our Topaques, yet that's a story for another day.