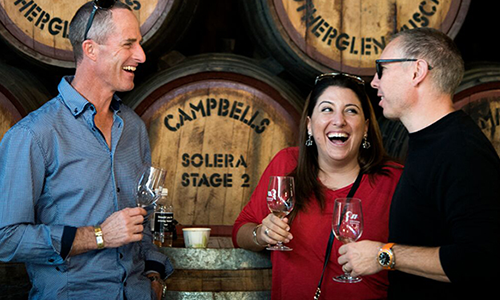 Campbells Wines have made the decision to NOT accept any private bus bookings for Winery Walkabout 2019.
We will only be accepting private cars with 8 people or less, and the Winemakers of Rutherglen shuttle bus.
We have not made this decision lightly and we apologize for any inconvenience caused.
With less people on our premises we can then do our very best to ensure that everyone has a safe and enjoyable Winery Walkabout 2019 at Campbells Wines.
Winery Walkabout 2019 is an event filled with fun, great food and Campbells wines! Guests can relax on the winery lawns and listen to live music or step inside and experience our 148 year old cellars filled with barrels, to taste and discover a selection of our distinctive regional wines.
If you'd like the opportunity to taste a select range of back vintage treats from our family cellar, then don't forget to join our 'VIP' tasting experience. Entry to our VIP area is $20pp or free for Cellar Club members and one guest.
We hope to see you here to celebrate the beginning of winter and all that it has to offer!
DATE: 8th and 9th June
LOCATION: Campbells Wines, 4603 Murray Valley HWY, Rutherglen 
CAMPBELLS WINES IS STRICTLY A NON-SMOKING WINERY FOR THIS EVENT
NO PRIVATE BUSES WILL BE ACCEPTED
STRICTLY NO BYO ALCOHOL
ANY INTOXICATED PERSON WILL BE REFUSED ENTRY
POLICE AND SNIFFER DOGS PATROL THIS EVENT