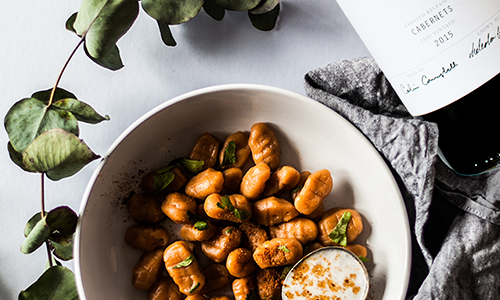 In the final installment of our pasta wine-pairing series, we're taking a look at gnocchi; which when prepared with lamb, pumpkin, spinach and spices, pairs beautifully with our Cabernets 2015 Limited Release. Check out the recipe below to make it for yourself at home.
INGREDIENTS:
500g

 

pumpkin, cut into 2cm pieces

1

 

tbsp

 

olive oil

350g

 

gnocchi, store bought

 

(Note 1)

3 tbsp

 

butter, salted

1

 

garlic clove (large), minced

80g

 

baby spinach leaves

1/2

 

tsp

 

fresh sage, finely sliced

1/2

 

tsp

 

allspice

Salt & pepper

200g slow cooked lamb

Parmesan cheese, freshly grate
METHOD:
STEP ONE: Preheat oven to 200C. Place pumpkin in a large bowl, drizzle with oil, sprinkle with salt, pepper and all spice. Toss to coat, spread out on tray and bake for 20 – 25 minutes, turning once, until golden and soft inside. Set aside.
STEP TWO: Bring a large pot of water to the boil, add a good pinch of salt. Cook gnocchi according to packet directions, or until gnocchi pops to the surface of the water. Scoop out a large mug of the pasta water, then drain gnocchi.
STEP THREE: Place butter in a skillet then put on the stove over medium high heat. Once it foams, add gnocchi immediately. Stir, turn up the heat to high, then leave to cook for about 30 seconds.
STEP FOUR: Add garlic and sage, then stir / toss for no longer than 1 1/2 minutes (i.e. 2 minutes in total – see note 2) until gnocchi is golden on both sides.
STEP FIVE: Add about 3/4 cup of gnocchi cooking water and toss – the water will evaporate quickly and transform into a sauce.
STEP SIX: Then add the pumpkin, spinach and slow cooked lamb and about 1/4 cup of cooking water. Stir quickly , then season with salt and pepper. Toss then serve immediately with freshly grated parmesan.