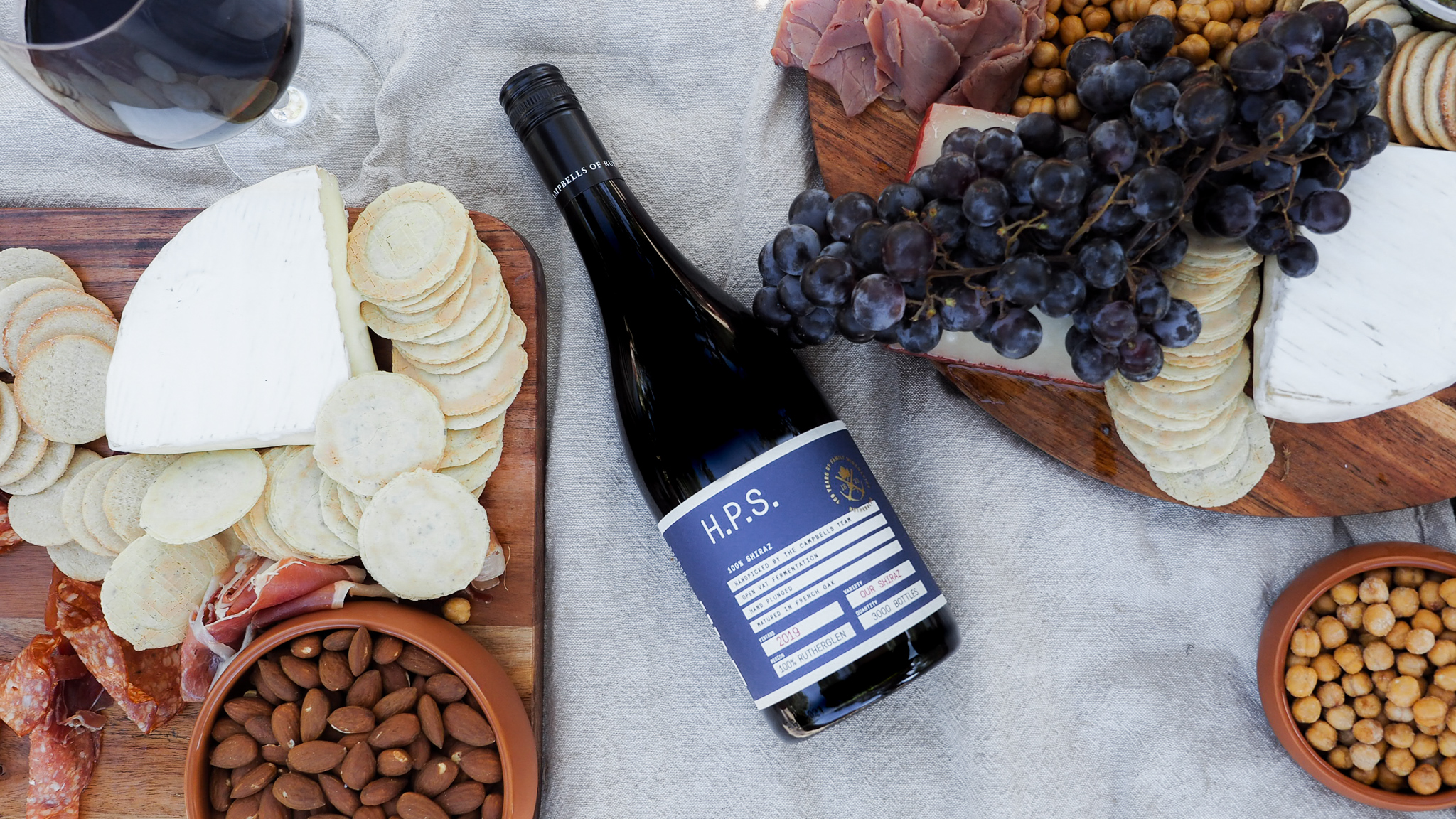 Picture this: It's a hazy morning in mid March, 2019. The Campbells team have made the early pilgrimage to our Bobbie Burns 3 vineyard in time to see the sun rise. Rubbing sleep from their eyes, each team member is handed a bucket and pair of snips ready to hand pick what will be remembered as the most special harvest of that year.
This is the beginning of our new celebratory release for our 150th year; the H.P.S. We are extremely proud to release a wine that is a true reflection of us; not only combining 4th and 5th generation Campbell family members, but also the entire team, who are like family to us. Each team member was involved in some way to bring this wine to you – and now in its finished form, ready to be released, it is a very special moment for all of us.
WINEMAKING:
Using the hand picked, whole bunches, we were able to utilise a partial carbonic maceration technique, which is something new for us at Campbells. Whole bunches were placed directly into fermentation vessels in the winery and covered with must (crushed grapes) from an earlier harvest of the Bobbie Burns 3 vineyard. Next, the vessels were covered with dry ice (CO2) to prevent oxidation. These were then left cold soaking in the picking bins, which allows anaerobic fermentation within the whole grapes. The cells break down, resulting in a very striking fruit flavour profile. That's when the real labour of love started! The vessels were hand plunged, twice daily for two weeks (most team members had a go of this task as well!) and temperature monitored.
Next, to the press, where only the best free run juice was taken. Malolactic fermentation was initiated in tank before the wine was finished in two year old French puncheons and matured for many months. The final step was to blend the wine with some of our traditional Bobbie Burns 1 vineyard Shiraz, which boasts some of our classic 50+ year old shiraz vines. This final piece of the puzzle was crucial in producing a wine that brings together the old and the new from our 150 year history.
BOUQUET & PALATE:
This is a wine that's deliciously perfumed on the nose with bright vibrant berry characters leaping from the palate, making way for a smooth, clean finish.
SERVING SUGGESTION:
Released young, it is a fresh, exuberant expression of Rutherglen Shiraz fruit and is best enjoyed now (however, will reward those who cellar for up 5 years). The best way to enjoy this wine is with tapas, chargrilled octopus or venison and juniper berries.

CELLAR DOOR PRICE:
$40 non members / $36 members.