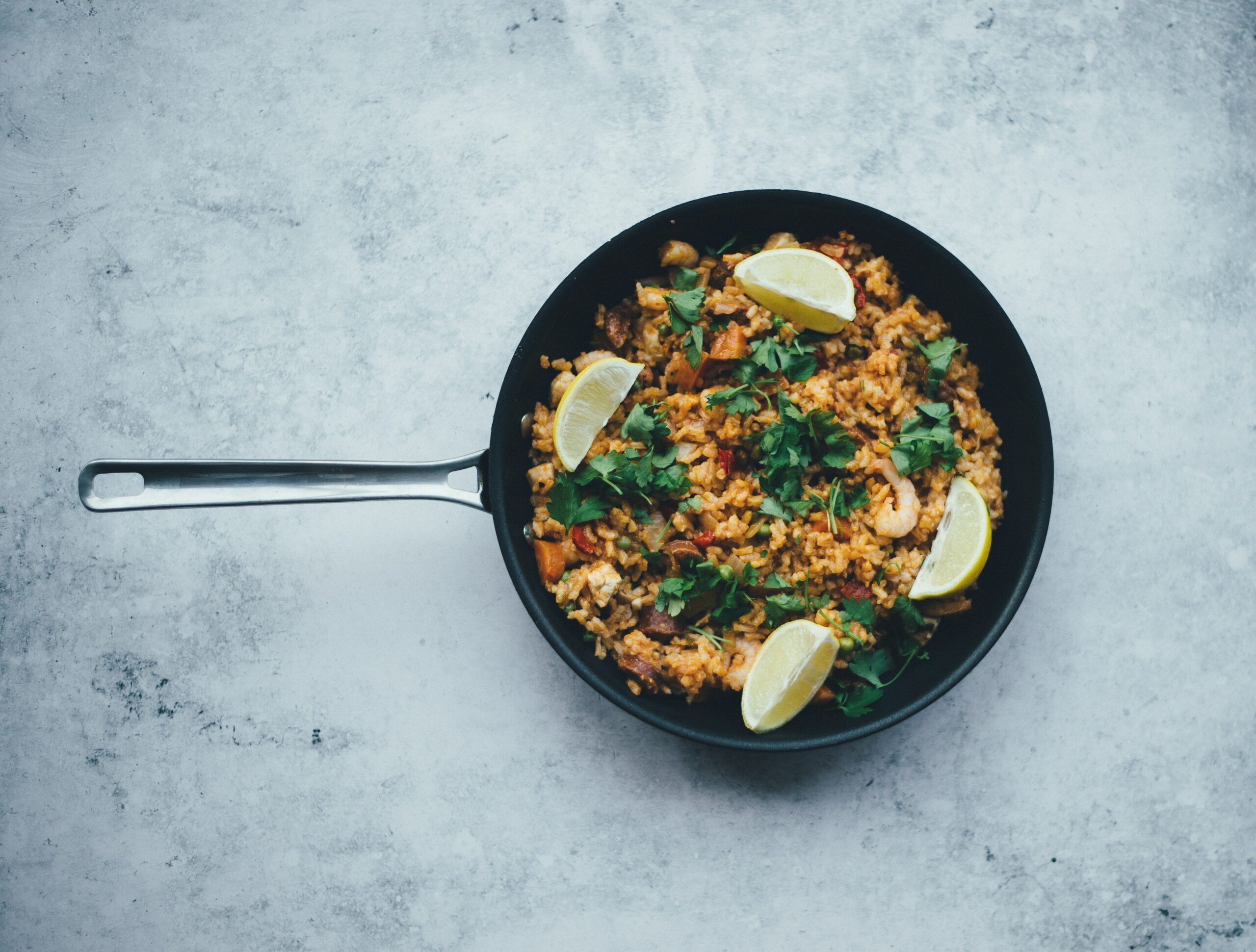 Best paired with our Rose 2019. 
The Rosé 2019 is lovely to drink on its own, but also works with a wide range of food and flavours. We recommend serving chilled with an aromatic prawn paella – a perfect dish for lazy summer nights spent out in the garden.
INGREDIENTS:

• • 1 tablespoon olive oil
• 1 brown onion, coarsely chopped
• 1 garlic clove, crushed
• 2 teaspoons paprika
• 1/4 teaspoon turmeric
• 2 tomatoes, coarsely chopped
• 1 red capsicum, halved, deseeded, coarsely chopped
• 300g (1 1/2 cups) white long-grain rice
• 2 vegetable stock cubes
• 1L (4 cups) boiling water
• 750g medium green prawns, peeled leaving tails intact
• 1 tablespoon chopped fresh continental parsley
• Lemon wedges, to serve
METHOD:
Step 1) Heat the oil in a paella pan or large frying pan over medium-high heat. Add the onion and garlic. Cook, stirring, for 3 minutes or until onion is soft. Add the paprika and turmeric. Cook, stirring, for 1 minute or until aromatic. Stir in the tomato and capsicum.
Step 2) Add the rice. Cook, stirring, for 1 minute. Combine the stock cubes and water in a heatproof jug. Add to the pan and cook, stirring occasionally, for 15 minutes.
Step 3) Arrange the prawns on top of the rice. Cover and cook or 5 minutes or until the rice is tender and the prawns curl and change colour. Sprinkle with the parsley and serve with lemon wedges.
Step 4) The most vital step… pour a glass of our Rosé and enjoy all your hard work!