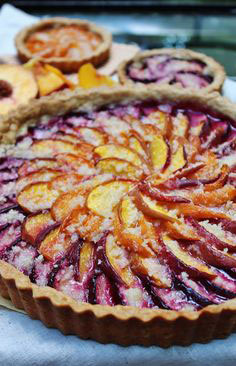 This dessert is such a delight to enjoy in spring and is a magical pairing to our Riesling 2017.
INGREDIENTS:
Roasted Stone Fruits
175g golden caster sugar
1 vanilla pod, halved
5 cardamom pods
1 lime for zest and juice
6 apricots, halved, stoned
3 peaches, halved, stoned
3 nectarines, halved, stoned
Frangipani
500g butter
500g sugar
500g almond meal
100g plain flour
6 eggs
METHOD:
Step 1: Buy or prepare dough for sweet shortcrust pastry, roll out to 3mm thick and lay into a 20cm fluted tart shell. Place into fridge to set. Once set, blind bake on 160°C until golden, remove baking beans and bake for a few more minutes to crisp the base. Remove from the oven and cool.
Step 2: Tip the sugar, vanilla pod, cardamom, lime zest and juice into a food processor then blitz until blended. Alternatively mash ingredients together using a pestle and mortar.
Tip the fruit into a shallow baking dish and toss in the sugar mixture.
Roast at 200°C for 20 mins, until the fruits have softened but not collapsed and the sugar and fruit juices have created a sticky sauce
Step 3: Cream butter and sugar then add eggs, almond meal and flour until combined.
Step 4: Add the layer of frangipani to the base of the tart case and place the roasted fruits on top.
Cook at 160°C until golden.