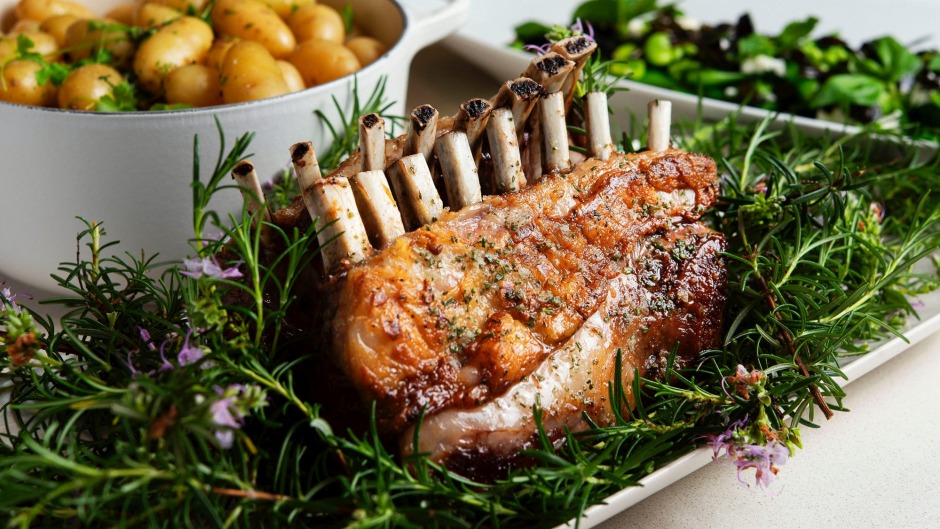 Best paired with our Petit Verdot 2018 Limited Release.
There is only one thing better than a beautifully roasted rack of lamb, that's a a roasted rack of lamb accompanied by a glass of our ruby red Petit Verdot. This simple 4 ingredient recipe is a delicious way to end your day. This dish is made to be shared around with friends, but we won't mind if you keep it as your own special secret. 
Ingredients
2 x 8-boned French lamb racks (you can ask your butcher to French trim your lamb racks)

2 heaped tsp finely chopped fresh rosemary

2 tsp fine sea salt

100ml olive oil
Method
Step 1: Preheat your oven to 200C. Mix the rosemary and sea salt together and lightly season the lamb racks with half the sea salt and rosemary.
Step 2: Heat a heavy-based frying pan on the stove until hot. Add a drizzle of olive oil and place the lamb racks in the hot pan and sear all the sides. Once well coloured, remove the lamb racks and place on a cake rack in a roasting tray.
Step 3: Roast the lamb in the oven for about 20-25 minutes. This should produce a medium rare to medium lamb rack. Remove from the oven, season with the remaining rosemary salt and drizzle with the remaining olive oil. Allow to rest for 10 minutes before serving. Place the lamb racks on a platter and garnish with fresh rosemary sprigs if available.
We'd suggest serving with roasted vegetables and your favourite gravy, and of course, a glass of wine.
Recipe Inspired by Good Food.