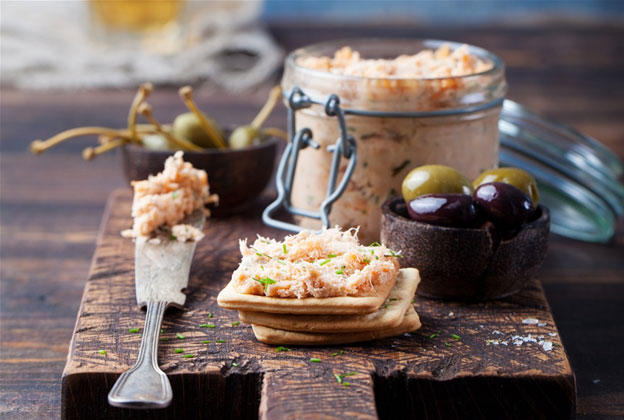 A sublime addition to any platter or cheeseboard, these Salmon Rillettes will have your mouth watering at first glance.
INGREDIENTS:
125g skinless hot-smoked salmon, flaked
1 kg centre-cut, skinless salmon fillet
1 tbs anise-flavoured liqueur, such as Pernod
Salt to taste
Freshly ground white pepper
1 celery rib
1 leek, halved lengthwise
1 small onion, quartered lengthwise
1 bay leaf
1 tsp black peppercorns
1 cup dry white wine
4 cups water
5 tbs unsalted butter, softened
1 large shallot, minced
½ tbs sour cream
2 tbs snipped chives
1½ tbs fresh lemon juice
1 tbs extra-virgin olive oil
¼ tsp smoked sweet
paprika
Baguette slices to serve
METHOD: 
Step 1: Place salmon fillet on a plate, sprinkle with the liqueur and season with salt and white pepper. Cover with plastic wrap and let it stand at room temperature for 30 mins.
Step 2: Meanwhile, in a large saucepan bring the celery, leek, onion, bay leaf, peppercorns, wine and water to a boil. Simmer for 25 mins.
Step 3: Poach the salmon fillet by adding it to the liquid in the saucepan, cover and remove from heat.
Step 4: Let it stand for 10 mins. Remove poached salmon from liquid, picking off any peppercorns, and refrigerate until chilled (about 45 mins).
Step 5: Flake the salmon fillet. In a skillet, melt 1 tbs of the butter. Add the shallot and cook over moderate heat until shallot has softened. Let it cool.
Step 6: Meanwhile, in a medium bowl whisk the remainder of the butter until smooth. Whisk in sour cream. Add the cooled shallot, along with the poached and smoked salmon, chives, lemon juice, olive oil and paprika and stir until combined.
Step 7: Season the rillettes with salt and white pepper. Let sit at room temperature for 20 mins before serving with toasted baguette slices.