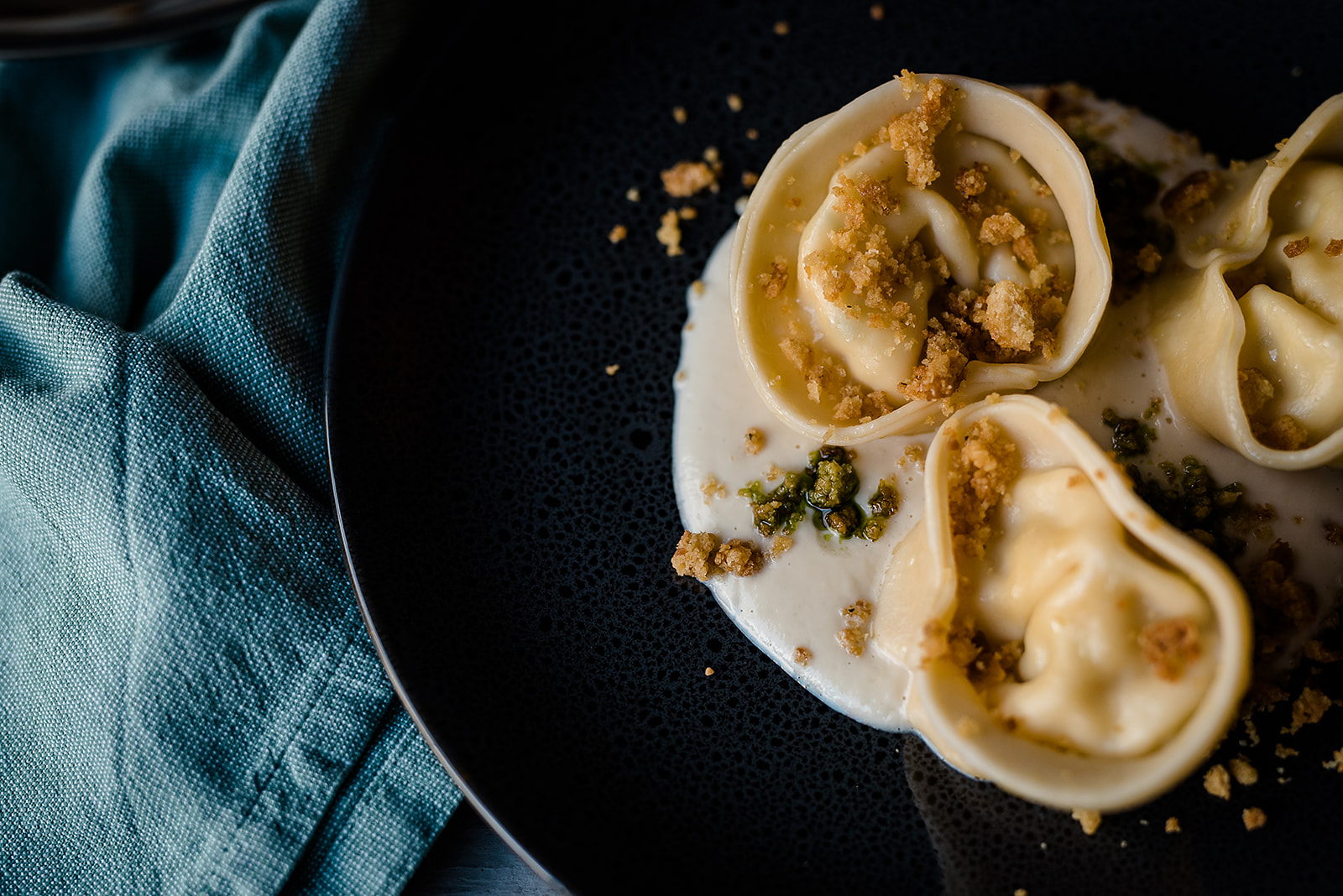 Best paired with our Trebbiano 2019
Known for their incredible regional cuisine, masters of the kitchen Matt & Erica Miller of Milkin Kitchen have kindly shared some of their mouth-watering dishes to pair with our new releases. These aren't your ordinary tortellini, they're better! Filled with divine scallop, they'll leave you wanting more.
Pasta
Ingredients
200g plain flour
115g Durum wheat flour
3 Eggs
Teaspoon salt
Tablespoon olive oil
Method
Place all ingredients into a food processor. Blitz until it becomes a fine crumb. Tip onto a lightly floured bench and kneed to form a ball. Wrap in clingfilm and refrigerate for 30mins.  
When the time comes to fill the pasta, roll it out using a pasta roller to setting number 7. Cut into 10cm rounds using a biscuit cutter. Place the scallop filling (approximately 1 tablespoon) into the centre of the round. To seal, lightly whisk a egg and run a light coating of the mixture around the circle, fold an press down to form a ½ circle. Fold the corners together and use more of the egg mix to seal.
Cook in a pot of boiling water for approximately 7 minutes.
Scallop filling
Ingredients
300g finely chopped scallops
150g finely chopped white fish
1 egg white
75ml cream
Tablespoon chopped chives
1 crushed clove garlic
Pinch of paprika
Method
Blizt white fish & egg white in a food processor until they form a paste. Add cream and pulse until it forms a mousse. Fold mousse and chopped scallops together. Add chives & garlic, and season with salt & pepper. 
Velouté
Ingredients
2 tablespoons butter
2 heads of cauliflower chopped into small florets
1 large leek
½ cup flour
1ltr chicken stock
500ml heavy cream
Method
Melt butter in a large saucepan over medium heat. Add leek and cook, stirring, until softened, about 5 minutes. Add cauliflower and cook for a further 5 minutes. Add the stock and cream. Reduce heat to medium-low and cover, simmer until cauliflower is tender, about 20 minutes. Once cooked, transfer cauliflower-cream mixture to the jar of a blender; carefully blend until smooth. Pass mixture though a sieve and season with lemon juice, salt & pepper.
Pangratatto
Ingredients
Loaf of sourdough bread, crust removed, processed to crumbs
Finely grated zest of 1 lemon
2 garlic cloves, crushed
¼ cup olive oil
1 loosely packed sup flat-leaf parsley leaves
1 tablespoon lemon thyme or thyme leaves
Method
Preheat oven to 180°C. Toss breadcrumbs with lemon zest, garlic and oil. Spread over a baking tray and bake for 5 minutes or until golden. Cool slightly. Place herbs in a food processor and pulse until roughly chopped. Add breadcrumbs and pulse to combine. Store in an airtight container for 1-2 days (re-crisp in warm oven if needed).