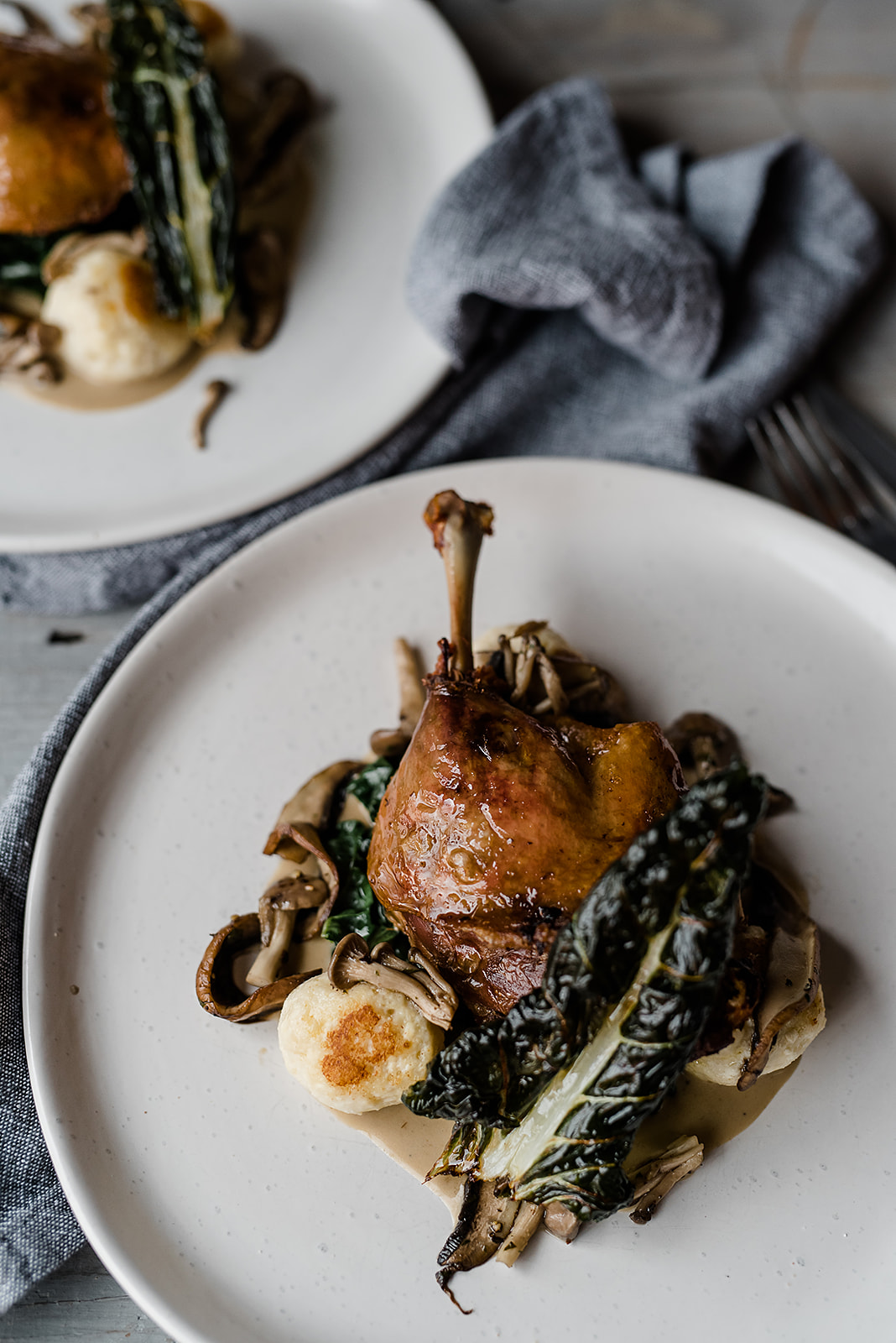 Best paired with our Tempranillo 2018 Limited Release
Known for their incredible regional cuisine, masters of the kitchen Matt & Erica Miller of Milkin Kitchen have kindly shared some of their mouth-watering dishes to pair with our new releases. Comfort food doesn't get much better than this! One of Matt and Erica's from signature dishes; this Slow Roasted Duck Leg is the ultimate meal to impress at your next dinner party.
Slow Roasted Duck Leg
Ingredients
Duck Legs
Olive oil
Salt
Method
Pre-heat oven to 160 degrees. Place the duck legs skin side up on a baking paper lined tray. Drizzle with oil and sprinkle with salt. Bake until golden and cooked though, approximately 1 hour.
Ricotta Gnocchi
Ingredients
250g ricotta
75g bread (no crust)
1 egg
¼ cup plain flour
50g parmesan cheese
Method
Place the ricotta into a v=sieve in a chux cloth and allow to drain overnight. Dice the bread and soak in milk until softened, about 20 mins. Strain the milk off the bread and wring out the moisture from the bread. Add ricotta, bread, egg, cheese and flour to a bowl and mix together until you have a dough. It should be sticky. Add more flour if it is wet.
Roll in to 25g balls and place on a baking paper lined tray. Using your finger, make a hole in the top each gnocchi by pushing down lightly. 
To cook the gnocchi, melt a tablespoon of butter in a non-stick frypan on a medium to low heat until it browns. Toss the gnocchi though the butter until golden. 
Porcini Cream
Ingredients
1 cup hot water
1/3 cup dried porcini mushrooms
1 tablespoon olive oil
2 tablespoons unsalted butter
1/4 cup minced shallots
2 teaspoons minced garlic
1 1/2 cups heavy cream
1/8 tsp of black truffle salt
1/8 tsp of freshly ground black pepper
Method
Place the dried mushrooms in a medium bowl, cover with the hot water, and let sit until reconstituted and soft, about 15 minutes. Drain the mushrooms and their liquid through a fine mesh strainer into a clean bowl, squeezing the mushrooms to extract as much liquid as possible. Reserve the liquid and roughly chop the mushrooms. Set aside.
Heat the oil and melt the butter in a large skillet over medium heat. Add the shallots and cook, stirring, until soft and fragrant, about 2 minutes.
Add the garlic and cook, stirring, until fragrant, 30 seconds.
Add the chopped mushrooms and cook, stirring, for 2 minutes. Add the reserved mushroom liquid, bring to a boil, and cook, stirring occasionally, until the liquid is nearly all evaporated, 1 to 1 1/2 minutes.
Add the cream, salt, and pepper and return to a simmer. Cook, stirring occasionally, until the cream is reduced by about a third. (It should be fairly thick.)
Ladle porcini cream sauce into Vitamix blender and puree on high speed until all ingredients are completely blended. Taste and season.