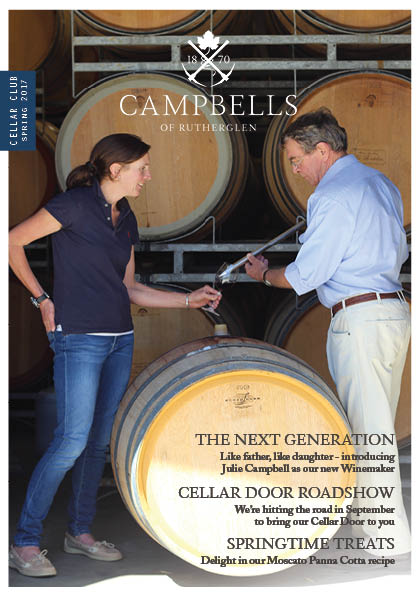 It's been another busy few months here at Campbells Winery as we prepare for spring, and our team has been working hard on our new edition of the Cellar Club News! Packed with spectacular offers, exciting event news and insightful articles, our spring Cellar Club News truly is one of our best yet.
You're sure to enjoy our lovely spring wine pairing ideas on page 10 – a perfect guide to seasonal entertaining. We also managed to sit down with new Campbells Winemaker, Jules Campbell, for a one-on-one chat about her new role as wine custodian for the winery. And, if you consider yourself a sweet tooth, be sure to check out our fabulous Moscato Panna Cotta Recipe, made by Cellar Club Team Member, Bianca!
We've got that, and so much more, gracing the pages of our spring 2017 Cellar Club News. Why not put your feet up and enjoy reading it with a glass of zesty white like our new release Riesling 2017? What better way to herald in the beginning of another spectacular spring.