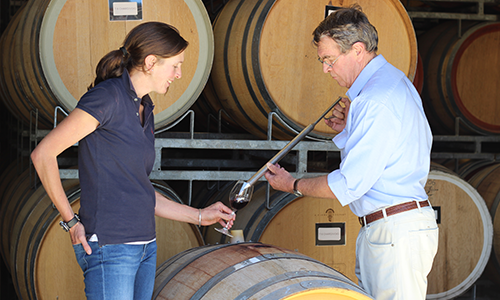 Anticipation is building for another fabulous vintage, so we sat down with Jules Campbell, fifth generation winemaker, to discuss her thoughts around Vintage 2018…
What does being involved in another Campbells vintage mean to you?
I'm really looking forward to working more closely with our skilled and experienced winemaking team this year. We have some new plantings just coming into production – some snappy young Shiraz and our first pick from our new plot taken from our 60s Block. Working with fruit from young vines is challenging as we watch it evolve in ferment and beyond, so I'm looking forward to facing that challenge with the team.
What are your hopes for Vintage 2018?
As we all know, at the end of the day we are just farmers – at the mercy of the weather. Having had a great start to the growing season we are hoping for a long and dry, summer and autumn – we would love the opportunity to chose when we harvest and also to maintain fruit on the vine to allow us to make some rich fortifieds.
What are the standout wines from vintage 2017?
I am loving the Semillon, and looking forward to the Chardonnay Limited Release which looks great in barrel at present. It's early days for our reds, but there are definitely some stand outs in some select Shiraz parcels and our Malbec.
What excites you most about the upcoming vintage?
It's a great opportunity to improve on how we do things, and try those things we didn't manage to in the year before – so we have a long list of hopes and plans for this vintage! I am hoping we can incorporate more lees and barrel work with our whites. For the reds, we are really trying to work canopy management to ensure we get the lovely ripe tannins and flavour whilst harnessing our sugar (potential alcohol) levels.