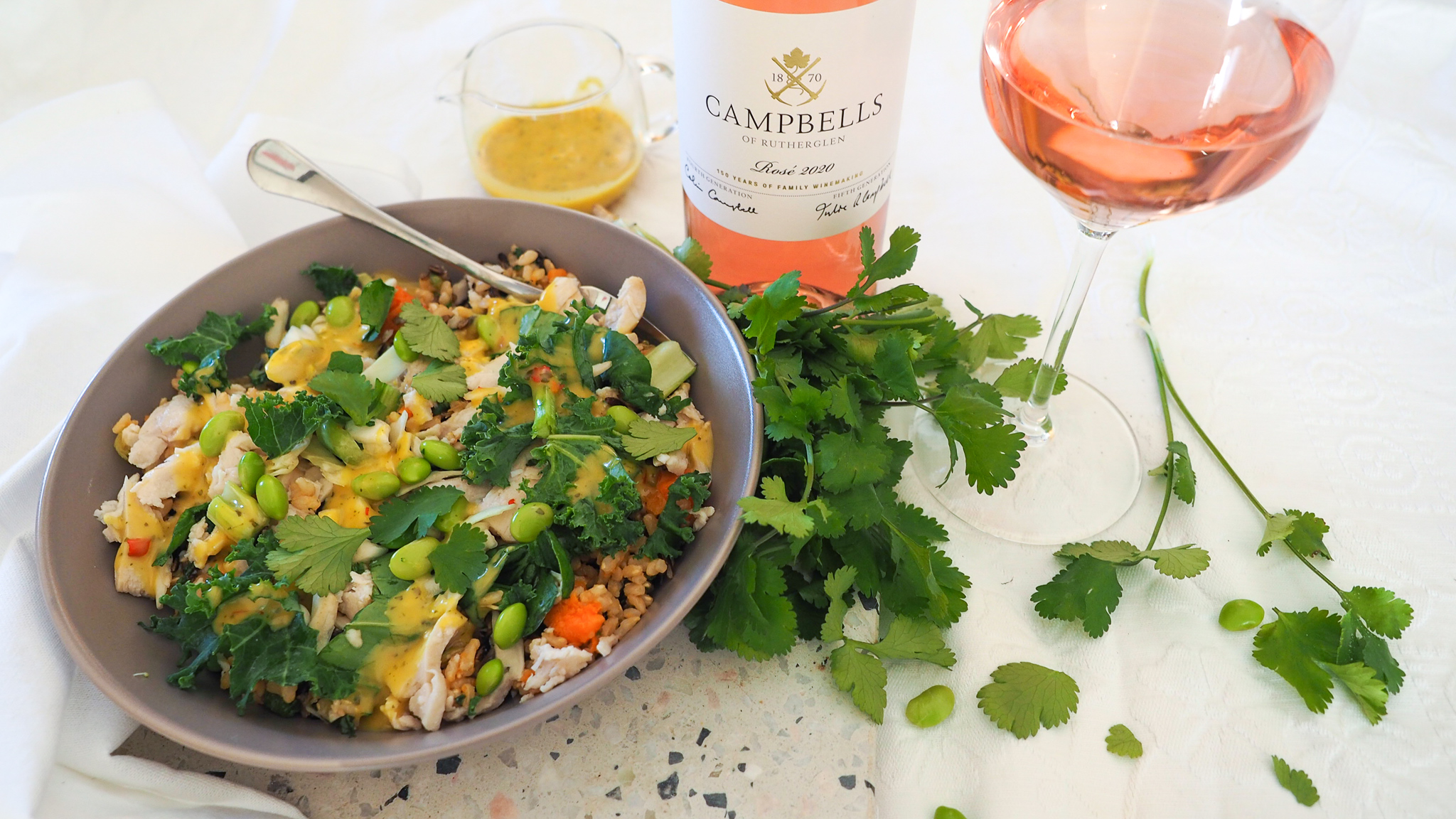 Best paired with our Rosé.
This fast, fresh and simple salad is the perfect lunchtime meal or Spring snack. This zesty dish is best shared with good friends and a glass of our bright and playful Rosé 2019.
INGREDIENTS:
2 teaspoons olive oil
500g chicken tenderloins
1 medium carrot, peeled, cut into small pieces
2 x 250g of your favourite coconut packet rice 
frozen edamame
parsley (to garnish) 
1 tablespoon crushed peanuts
Sauce
1/2 cup fresh orange juice
1/4 cup fresh lime juice
2 teaspoons sugar
2 teaspoons dijon mustard
2 tablespoons olive oil
salt
pepper
METHOD:
Step 1: In a small pan over high heat, boil 1/2 cup fresh orange juice and 1/4 cup fresh lime juice until reduced to 1/2 cup, 8 to 12 minutes.
Step 2: Remove from heat; whisk in 2 teaspoons sugar, 2 teaspoons Dijon mustard, and 2 tablespoons olive oil. Season with coarse salt and ground pepper.
Step 3: Heat oil in a large frying pan over medium-high heat. Cook chicken for 5 minutes each side or until golden and cooked through. Thinly slice. 
Step 4: Meanwhile, defrost edamame. Combine edamame , carrot and chicken in a bowl. Cover to keep warm.
Step 5: Cook rice following packet directions. Divide between plates. Top with chicken mixture. Drizzle with citrus sauce and peanuts. Garnish with parsley to finish.
Recipe Inspired by – Taste.com & Martha Stewart