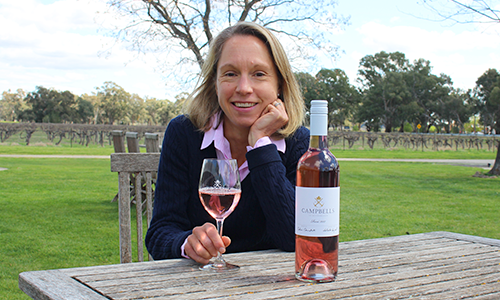 Susie Campbell takes us through her latest passion project; Rosé – THE taste of summer! 
Ahhh Rosé… it's so pretty no wonder we've all fallen in love with it!
Rosé has experienced an exponential rise in popularity over the past decade. In France, Rosé has outsold white wine every year since it first overtook its sales in 2009!*
And in Australia last year, according to Dan Murphy's Fine Wine Buyer Peter Nixon, Rosé sales grew 200 to 300 percent in the $10+ category. "I haven't seen this much excitement over a wine style since Marlborough Sauvignon Blanc first started to take off in the market."
And so in 2017 we decided to join the trend! You may say 'What took you so long?' Well, let me explain…
We did in fact release a Rosé several years ago, so you could say we were instigators of the Rosé revolution! Back then, our 2004/2005 Rosé was made from premium, early picked Shiraz grapes.
At the time, the wine received glowing reviews from the likes of Huon Hooke in the Sydney Morning Herald, prompting our Sydney agents to order a pallet immediately – woohoo!
However, it proved to be too early in the Rosé revolution for this beautiful wine to shine. In the early 2000's, there were still so many poor quality Rosés on the market, tarnishing the wine's reputation.
Due to this, when I suggested to Dad that we make one again, it took some time to convince him.
As well as evidence to support the demand for Rosé, we needed to have a point of difference. After much research and discussions with the winemaking team, we decided to base the wine around varieties featured in our Sixties Block. If picked early, these varieties would provide an ideal base for the style we were seeking. Picking times were crucial to achieve enough sweetness in the fruit and retain some soft acidity to produce a complex, supple and refreshing Rosé.
Then came the fun part…. the benchmark tastings! There are so many different styles of Rosé out there, all made from a wide range of grape varieties, some mainstream and some more obscure. In keeping with Campbells style, we set out to make a top quality Rosé that was not just your everyday quaffer… the wine required texture, savoury notes and some crunchy acidity to balance the subtle fruit sweetness.
The fruit was picked in mid April in the early hours of the morning. The grapes were immediately crushed, de-stemmed and pressed to provide a gorgeous pale pink juice. A slow, cool fermentation was then commenced using an aromatic Riesling style yeast reaching dryness in early May. The wine remained on lees for two weeks. Winemaker Jules joined us for tastings in August bringing with her years of experience having made the iconic and stylish Turkey Flat Rosé. Upon tastings in August, we decided to add some Fiano and Trebbiano to the blend to enhance the aromatics and colour tone.
Winemakers Jules and Ian spent hours achieving the perfect colour and flavour profile, and both are really happy with the result. Upon tasting now, what Jules loves about the Rosé is that it has all the crunchy, crispness and texture of a white wine, combined with lovely strawberries & cream notes from the red varieties. "It tastes like fresh berries when they've just been picked! It's lovely to drink on its own but also works with a wide range of food and flavours. It's the perfect wine to drink chilled on a warm, sunny day!"
We trust you'll enjoy our Rosé as much as we've enjoyed creating it! It's sure to become your 'go to' wine this summer.
As always we would love to hear your feedback on the wine at anytime. Please call the Cellar Club team on 1800 359 458, send us an email at sales@campbellswines.com.au or post us a message on Facebook.
*(Source John Stimpfig – Decanter Magazine August 2017)