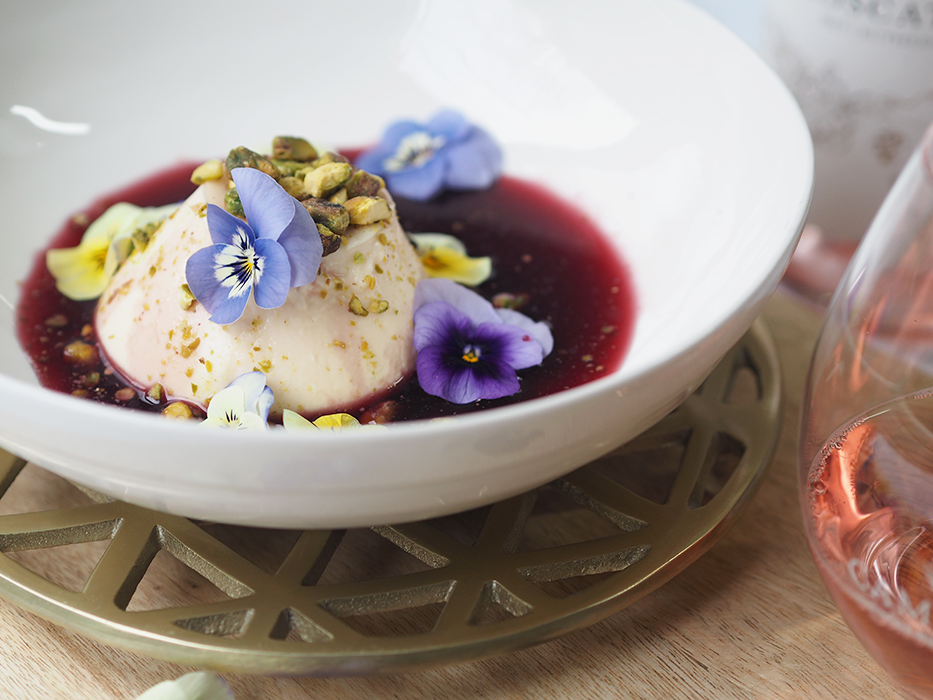 Best paired with Moscato 2017.
As featured in our Spring 2017 Cellar Club Newsletter, this Moscato Panna Cotta is perfect for Spring entertaining.
INGREIDENTS:
Panna Cotta
1½ packets gelatin
3 tablespoons water
1 teaspoon vanilla extract
¼ cup Campbells Moscato
1 cup whole milk
1½ cups heavy cream
½ cup sugar
Coulis
½ cup mixed berries
2 tablespoons water
Garnish
¼ cup crushed pistachios
Edible flowers
METHOD:
Step 1: In a small bowl, whisk together the gelatin, water, vanilla extract and Moscato. Let the mixture rest while you prepare the remaining ingredients.
Step 2: Place a medium saucepan on medium heat and combine the milk, heavy cream and sugar. Bring to the boil and then reduce to a low simmer. Cook this mixture until the sugar dissolves, stirring constantly for about three minutes.
Step 3: Remove from heat and whisk the gelatin mixture into the warm milk until completely dissolved.
Step 4: To make the berry coulis, simply cook berries and water over medium heat until they turn soft and release their juices. Drain the juices into a serving jug.
Step 5: Pour into four ramekins or mini moulds. Chill overnight until set. Top with crushed pistachios and fresh edible flowers.