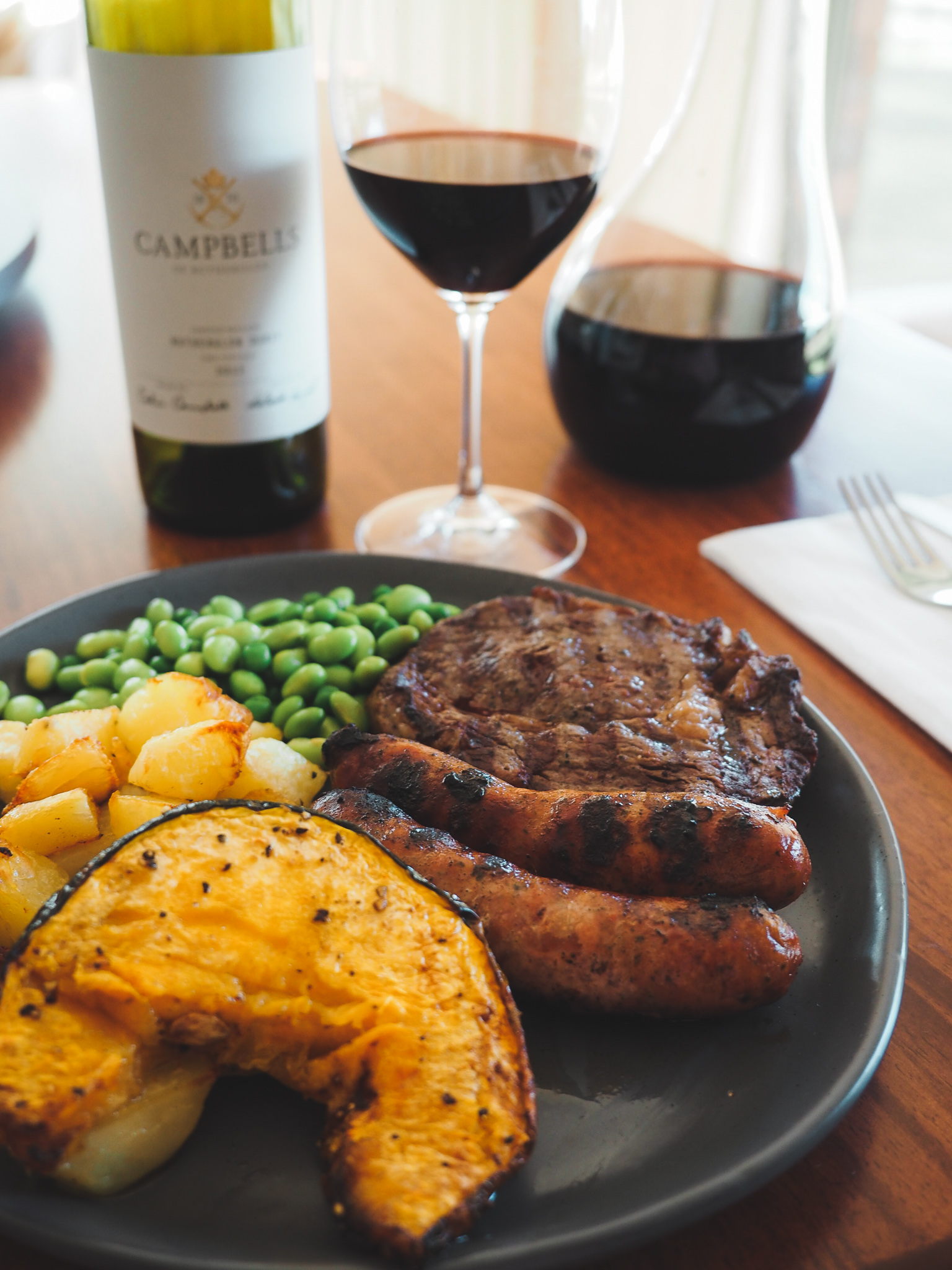 Best paired with our Rutherglen Durif
A good steak and our Rutherglen Durif; A perfect match every time! We love pairing this powerful wine with chargrilled steak and perfectly roasted veggies.
INGREDIENTS:
4 lean fillet steaks, each about 175 g, trimmed of visible fat
Olive Oil
Rosemary
salt and freshly ground black pepper
Kent Pumpkin, chopped into chunky slices
6 Large Potatoes
METHOD:
Step 1) About 20 minutes before grilling steak, remove them from the refrigerator and let sit, covered, at room temperature.
Step 2) Preheat the oven to 200°C. Cut your pumpkin and drizzle with oil, sprinkle rosemary and salt and pepper.
Step 3) Peel the potatoes and chop into chunky pieces a little bigger than a ping pong ball.
Step 4) Place potato in a pan and cover with cold water. Place on the hob on a high heat and bring to the boil, then turn down the heat and simmer for 8-9 minutes – until softened at the edges.
Step 5) Drain the potatoes in a colander, and give them a good shake to really roughen up the edges.
Step 6) Place potatoes and pumpkin on tray and cook for 30-35 minutes, turning once or twice in the last 15 minutes of cooking, until golden brown and crispy.
Step 7) Heat your grill to high. Brush the steaks on both sides with oil and season liberally with salt and pepper. Place the steaks on the grill and cook until golden brown and slightly charred, 4 to 5 minutes. Turn the steaks over and continue to grill 3 to 5 minutes for medium-rare, 5 to 7 minutes for medium or 8 to 10 minutes for medium-well.
Step 8) Transfer the steaks to a cutting board or platter, tent loosely with foil and let rest 5 minutes before slicing.
Serve with your favourite condiments.