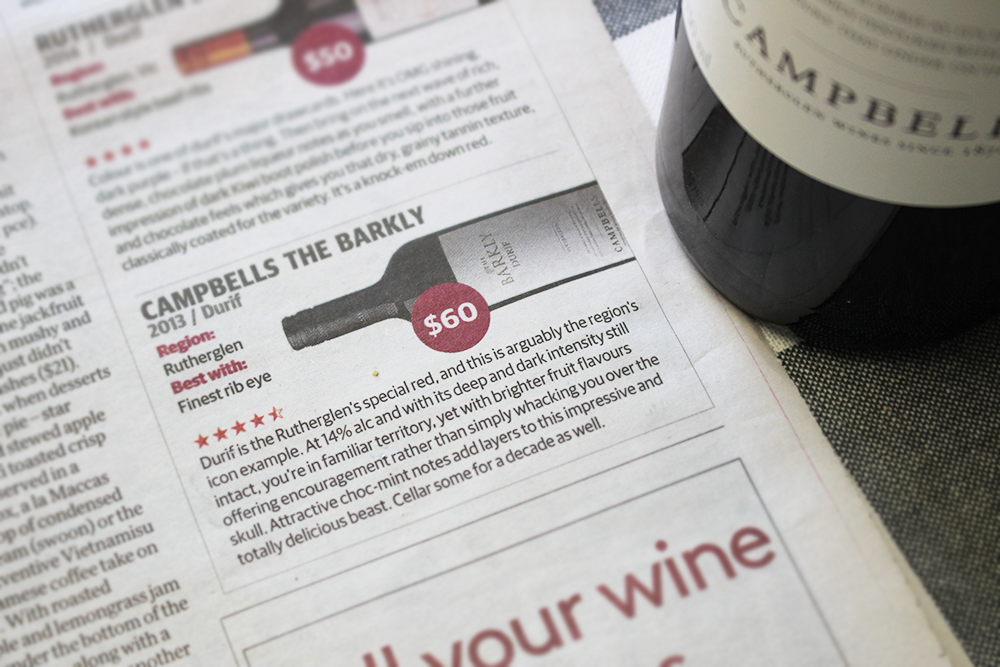 It's been a busy few months for Campbells Wines in the press, with many of our wines gaining positive reviews and fabulous awards! Not only did 12 of our wines receive 91 points + in James Halliday's Wine Companion Awards, but many of our ripper reds have also received praise from well respected wine reviewers Tony Love, Max Crus and Max Allen. Check out some of the ripper reviews below:
SHIRAZ DURIF 2015
Review written by Tony Love – Taste, The Herald Sun, 22/8/17
These two varieties are the star reds of north-east Victoria, and while this is shiraz dominant, the durif adds more than its fair share to the duet. The nose is rich with intent, each grape's unique plum pudding flavours give added depth & palate presence with a mint chocolate note, while the tannins are tempered compared to many a straight durif.
THE SIXTIES BLOCK 2015
Review written by Max Crus – The Daily Examiner, 8/8/17
Cheeky devils. There are some weirdly wonderful grape varieties in this… but they don't tell you which except to say they are Spanish and Portuguese. Maybe they
don't know, they were planted in the '60's.
THE BARKLY DURIF 2013
Review written by Max Allen – Top Drops of the Month, Gourmet Traveller, Oct 2017
Yes, the durif grape can produce big reds, but the best examples, like this from one of the region's most seasoned durif makers, combine power with cellarworthy poise and elegance.