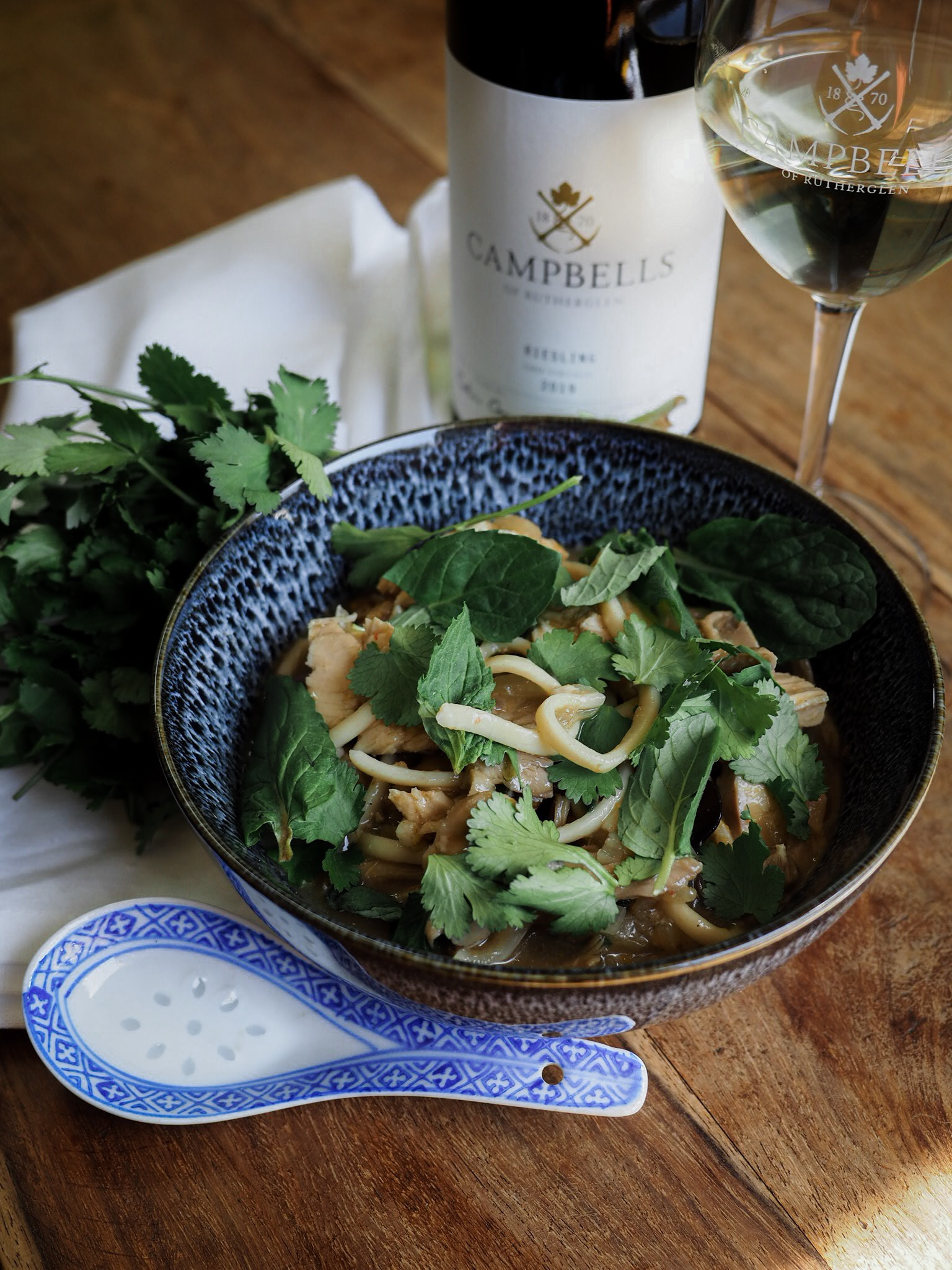 Best paired with our Riesling 2018. 
Our Riesling 2018 is bone dry, with floral notes that give a suggestion of sweetness. Perfect partner for this fragrant chicken and shiitake mushroom udon noodle soup. Enjoy in it's youth or cellar for up to 10 years. Check out the full recipe below:
INGREDIENTS:
10 (20gm) dried shiitake mushrooms
4 cups chicken stock
6 slices peeled fresh ginger
3 garlic cloves, crushed
1 green onion, sliced
1 star anise
2 packets of udon noodles
1 tablespoon sesame oil
2 teaspoons minced peeled fresh ginger
1 garlic clove, minced
1/4 cup rice wine
2 cups shredded cooked chicken breast
1 tablespoon soy sauce
1 tablespoon honey
Coriander leaves
Mint leaves
1/4 cup green onion
METHOD:
Step 1) Combine mushrooms, chicken stock, sliced ginger, crushed garlic, green onion & star anise in a large saucepan. Bring to a boil. Cover, reduce heat, and simmer 20 minutes. Remove from heat. Let stand 10 minutes. Strain stock through a sieve over a bowl; discard solids.
Step 2) Cook udon noodles according to package directions, omitting salt and fat. Drain and rinse with cold water; drain well.
Step 3) Heat a large saucepan over medium-high heat. Add sesame oil to pan; swirl to coat. Add minced ginger and minced garlic; sauté for 1 minute.
Step 4) Add rice wine, and cook for 4 minutes, scraping pan to loosen browned bits. Add stock to pan. Bring to a boil, and reduce heat to medium-low.
Step 5) Add chicken, soy sauce, 1 tablespoon honey, and salt; simmer for 2 minutes or until chicken is thoroughly heated. Divide noodles evenly among 4 bowls.
Step 6) Serve with a garnish of green onion, coriander & mint. Pour a glass of chilled Riesling 2018 and enjoy!