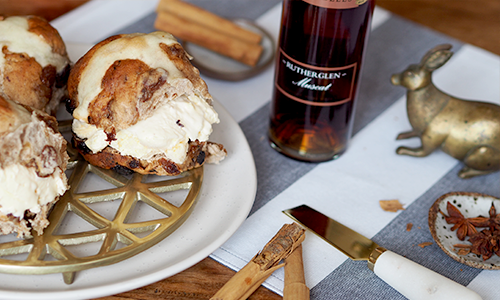 If you can't get enough of Hot Cross Buns at Easter time, why not give this festive dessert idea a go – using our Rutherglen Muscat to take it to that indulgent next level. Only three ingredients necessary and oh-so-moreish!
INGREDIENTS:
6 Hot Cross Buns (we used ones from our friends at Nord Bakery)
1 litre of vanilla ice cream
100ml of Rutherglen Muscat
METHOD:
STEP ONE: Slice Hot Cross Buns in half (lengthways) and toast to your liking.
STEP TWO: Whilst your hot cross buns are toasting, mix the softened vanilla ice cream with the Rutherglen Muscat in a mixing bowl.
STEP THREE: Once the buns are toasted, place one scoop of ice cream onto each hot cross bun.
STEP FOUR: Serve and enjoy! Easy and delicious.