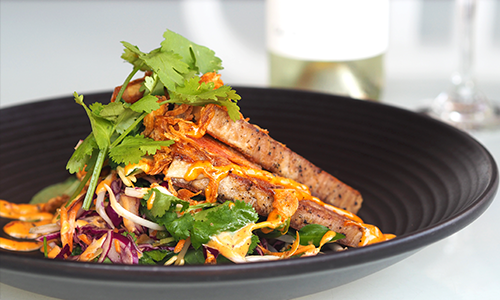 We recently caught up with our friends at La Maison Cafe, Wodonga, who shared this spectacular recipe with us for our latest edition of the Cellar Club News. So, get ready to tickle your tastebuds with this Crispy Pork Belly Salad with Asian slaw, Nuoc Cham & chilli aioli.
INGREDIENTS:
Asian Slaw
– ¼ red cabbage (chopped fine)
– 4 wombok leaves (chopped fine)
– 1 carrot (grated)
– 1 baby fennel (chopped fine)
– 2 Lebanese cucumbers (sliced)
– Bean shoots
– Thai basil leaves
– Coriander (chopped chunky)
– Mint or Vietnamese mint leaves
Nuoc Cham
– 200ml lime juice
– 100ml fish sauce
– 2-3 teaspoons sugar
– 2-4 birds eye chillies
– 1 small garlic clove
Burnt Chilli Mayo
– 3 long dried chillies
– 150ml mayonnaise
– 50ml adjard syrup*
– 2 tablespoons tamarind puree
– 1 tablespoon smoked paprika
– salt
* (equal parts sugar & rice vinegar bought to boil then simmered for 5 minutes)
Pork Belly
– 2kg Pork Belly
– 3 garlic cloves and fresh herbs of your choosing
– 250ml white wine
– ¼ cup of olive oil
METHOD:
Serves 8-10
1) La Maison's signature pork belly is slow-cooked in the oven for 12 hours. To prepare, smother the meat with an infused mix of garlic, fresh herbs, white wine & olive oil. Cover with foil and simmer in the oven at 90 degrees.
2) Remove the pork belly from oven. Press with weighted tray to ensure skin will crackle evenly. Once cooled, cut into even slices. When ready to serve, grill in medium to hot pan with a light sprinkle of salt to ensure crispiness.
*(If you do not have the time to prepare your own slow-cooked pork belly, pre-prepared pork belly from the supermarket can be used as well as steamed chicken or prawns)
3) Next, onto your slaw. Finely chop your red cabbage, wombok, carrot, fennel and Lebanese cucumbers. Add in the bean shoots, Thai basil leaves, coriander (chopped) and mint. Put to one side.
4) Time for your Nuoc Cham dressing. Finely blend together the lime juice, fish sauce, sugar, birds eye chillies and garlic. Put to one side.
5) To make the burnt chilli mayo, dry fry the chillies until blackened and cool. Next, crush the chillies with a mortar & pestle and stir in mayonnaise, adjard syrup, tamarind puree, smoked paprika and salt.
6) Finally, time for assembly. Dress slaw lightly with Nuoc Cham. Mix well. Add crispy pork belly pieces on top and drizzle with chilli aioli. Garnish with fresh herbs and fried shallots if you wish.
____________________
CELLAR CLUB EXCLUSIVE: We're delighted to offer a complimentary glass of Campbells Trebbiano 2017 with any main meal purchased at La Maison Cafe. Simply show your Cellar Club Card and enjoy a glass on us! Offer valid until February 28th, 2018. Visit them at 40 Lincoln Causeway, Wodonga.