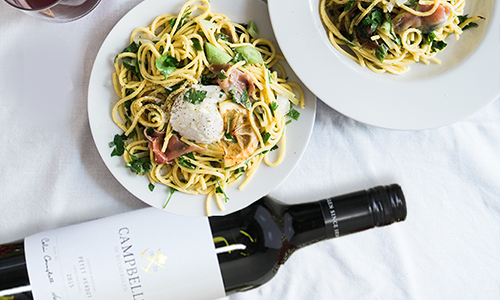 This month, it's all about the perfect wine pairings to creamy pasta.  We recommend pairing this divine Ricotta, Parsley, Lemon & Prosciutto Fettuccine recipe with the likes of our fresh, vibrant Petit Verdot. Extended maturation in a mix of French and American puncheons means that this wine offers a complexity of char and dried herb that goes beautifully with the flavour nuances that Italian cuisine often brings.
INGREDIENTS:
500g of Fettuccine
2 tablespoons unsalted butter, cut into small pieces
1 cup fresh ricotta
1/3 cup roughly chopped mixed fresh parsley
zest of 1 lemon, grated
200g Prosciutto
3/4 teaspoon kosher salt
1/4 teaspoon freshly ground black pepper
METHOD:
STEP ONE: Cook the fettuccine in boiling water for up to 5-8 minutes. Reserving ⅓ cup of the water, drain the pasta, then return it to the pot.
STEP TWO: In a medium bowl, whisk together the butter, ricotta, and reserved pasta water until a rich, creamy sauce forms.
STEP THREE: Pour the sauce over the hot pasta. Chop the parsley, grate the lemon zest and finely slice your prosciutto. Add all these ingredients to the pasta. Add salt and pepper and toss. Serve with our Petit Verdot 2015 Limited Release.