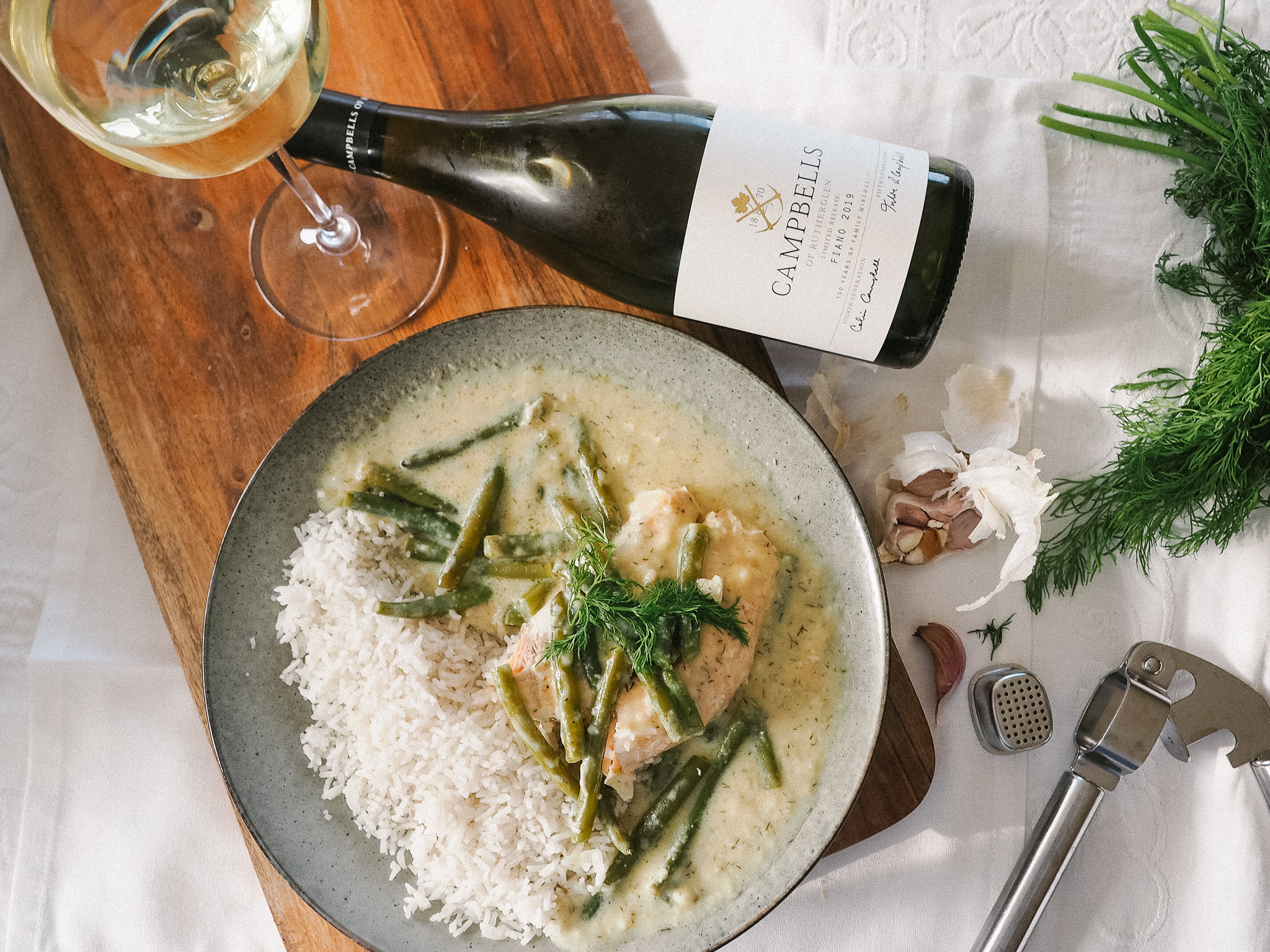 Best paired with Fiano.
Certain wine & food pairings are like soul mates; hard to find, but when you do – it's just perfect. Pair our Fiano 2018 Limited Release with its soul mate – Salmon with Creamy Dill Sauce
INGREDIENTS:
2 salmon fillets
1 to 1-1/2 teaspoons lemon-pepper seasoning
1 teaspoon onion salt
1 small onion, sliced and separated into rings
6 lemon slices
1/4 cup butter, cubed
green beans
Dill Sauce
1/3 cup sour cream
1/3 cup mayonnaise
1 tablespoon finely chopped onion
1 teaspoon lemon juice
1 teaspoon prepared horseradish
3/4 teaspoon dill
1/4 teaspoon garlic salt
Pepper to taste
METHOD:
Step 1: Line a 15x10x1-inch baking pan with heavy duty foil; grease lightly. Place salmon skin side down on foil. Sprinkle with lemon pepper and onion salt. Top with onion and lemon. Dot with butter.
Step 2: Fold foil around salmon; seal tightly, Bake at 180° for 20 minutes.
Step 3: Open foil carefully, allowing steam to escape. Grill about 20cm from direct heat for 8-12minutes or until the fish flakes easily with a fork.
Step 4: Boil green beens for 5 minutes then blanch in ice water to retain their crunch.
Step 5: Meanwhile, combine the sauce ingredients until smooth. Serve with salmon, beans & rice.
Tip – You can freeze salmon and other oily types of fish, such as whitefish, mackerel and lake trout, for up to 3 months. Wrap fish in freezer paper, freezer bags or heavy duty foil before freezing.
Recipe via – Taste of Home.com