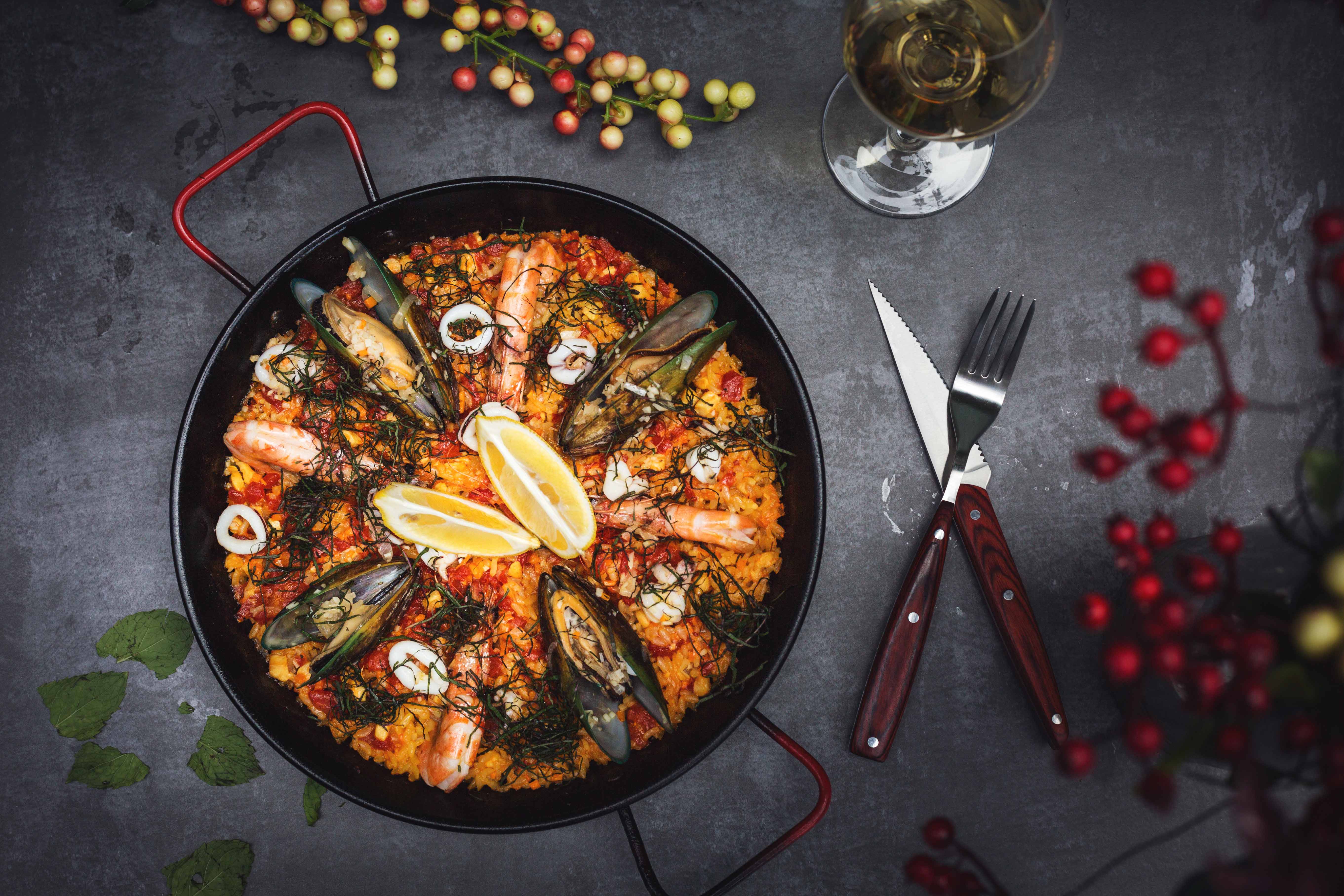 Take a trip to Spain with this gorgeous Seafood Paella recipe – the ultimate crowd pleaser!
INGREDIENTS
• 1/2 cup (125ml) Semillon 2016 Limited Release
• 1/2 teaspoon saffron threads
• 1 tablespoon olive oil
• 1 Spanish onion, finely chopped
• 1 red capsicum, seeded, finely chopped
• 2 garlic cloves, crushed
• 1 large ripe tomato, halved,
seeded, finely chopped
• 2 teaspoons mild Spanish paprika
• 1 cup (200g) medium grain
rice (such as calrose)
• 2 cups (500ml) chicken style liquid stock
• 12 (about 1kg) green king
prawns, peeled, cleaned leaving
heads and tails intact
• 2 squid hoods, cleaned, cut
into 1cm-thick rings
• 12 (about 1kg) black mussels,
scrubbed, debearded
• Lemon wedges, to serve
METHOD
Step 1) Combine wine and saffron in a pan over low heat and bring to a simmer. Set aside for 5 minutes to allow the saffron to infuse.
Step 2) Heat the oil in a large paella or large frying pan over medium heat. Add onion, capsicum and garlic and cook, stirring, for 5 minutes or until onion softens.
Step 3) Add the tomato and paprika and cook, stirring, for 1 minute or until aromatic. Add the rice, stock and wine mixture and bring to the boil. Reduce heat to low and cook, uncovered, for 15 minutes or until rice is almost tender.
Step 4) Add prawns, squid, and mussels and push lightly intothe rice mixture. Cook, covered, for 5 minutes. Sprinkle over the peas and cook, covered, for a further 2-3 minutes or until prawns change colour and mussels and clams open.
Step 5) Remove from heat. Discard any unopened mussels. Serve immediately with lemon wedges. Pour a glass of Semillon 2016 Limited Release and enjoy!