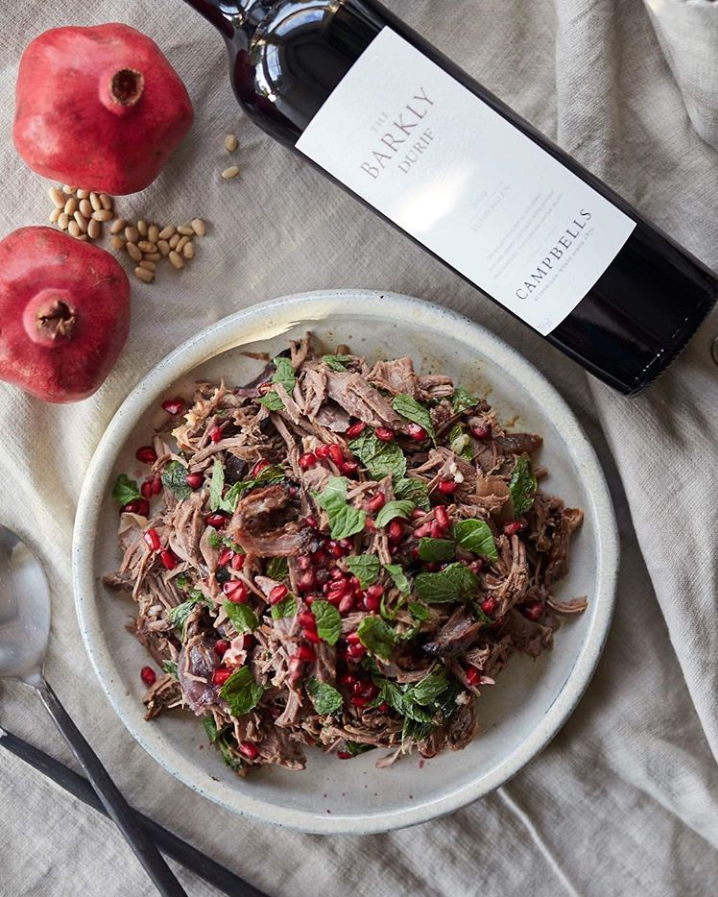 Best paired with The Barkly Durif
With the weather finally warming up, we're looking ahead to Spring Racing and nights shared with friends by the BBQ. And what's better at a BBQ than a big hearty plate of slow-cooked lamb with mint and pomegranate? We love this recipe idea, originally shared via Willow Creative. Check out the full recipe below:
INGREDIENTS:
Shoulder of lamb, with bone (about 1.75kg)
Olive oil
½ teaspoon ground cardamom
1 teaspoon ground cinnamon
½ teaspoon ground crushed chillies
3 cloves garlic, unpeeled
1 long red chilli
3 tablespoons chopped fresh mint
Seeds from 1 pomegranate
Crushed or ground sumac, to serve
METHOD:
Step 1: Preheat oven to 150°C. Rub lamb with a little olive oil then combine spices and rub over meat, seasoning with salt and pepper.
Step 2: Place in a roasting tin, add enough boiling stock or water to come to a depth of 1cm, then add garlic and whole chilli. Cover with foil and cook for about 4½ hours.
Step 3: Check every 30 minutes to make sure stock hasn't evaporated; add more water if needed. Increase oven temperature to 180°C and cook, uncovered, for a further 30 minutes.
Step 4: Remove from oven and let lamb rest (covered) for about 20 minutes. Shred warm meat and place on a platter. Sprinkle with mint, pomegranate seeds and a little sumac. Season to taste. Serves 6
Image via Willow Creative